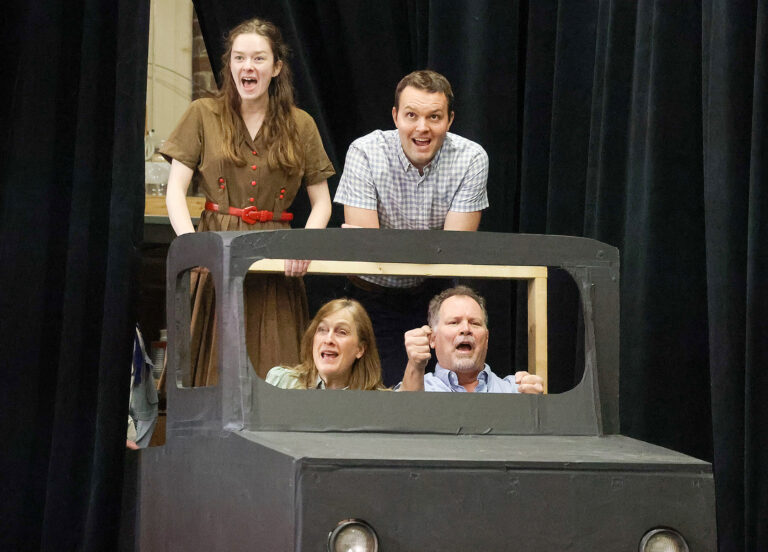 news
DESTINATION: DES MOINES (AND THE 1946 STATE FAIR)
JEREMY WALTNER – PUBLISHER
Ordinarily, this would be nothing more than a story about a community of friends, old and new alike, coming together to prepare a full-scale musical for Freeman's traditional Schmeckfest.
But because things have been far from ordinary the past three years, this is something else.
This is a comeback story.
It was March 12, 2020 when the cast of "Matilda The Musical" gathered near the Pioneer Hall stage with director Will Ortman and learned that Schmeckfest had been postponed indefinitely, and the future of the show that was just seven nights from opening night was up in the air.
Five weeks later, the 2020 Schmeckfest — and by proxy, "Matilda" — was canceled.
It was again in 2021.
And again in 2022.
It was upon hearing of its third cancelation that the heart belonging to Kris Carlson sunk.
"That was a really dark day for me," says the community native and theater enthusiast whose family heritage is closely tied to the Schmeckfest tradition. "And I remember saying to a number of people, 'I think the Schmeckfest musical died today.'
"I really thought that, if we haven't done one in three years, I don't know that this thing is ever coming back. You begin to think that things have lost so much momentum that people are going — eh, it's time to let it go."
Some might have been.
But not Carlson.
The result?
A Rogers and Hammerstein lesser-known classic that is set to signal the return of the Schmeckfest musical in a big, delightful way.
"State Fair," a show that follows the Frake family from their farm in Brunswick, Iowa to Des Moines and the 1946 Iowa State Fair, will be presented to audiences over three nights next week. It will open Thursday night, March 23 and continue each night of Schmeckfest March 24 and 25.
"It's a lighthearted story that's easy to follow," says Carlson, the director of the show who has been working closely with a cast of 36 since the second week of January. "There's nothing confusing; nothing to grapple with or struggle with. It's family friendly. It's very Midwestern and old-fashioned and wholesome, and it's got a gloriously, tuneful score. And it's shorter than most Broadway musicals.
"That's everything that the local or traveling-in Schmeckfest audience could want."
So how did things go from the day the Schmeckfest musical almost died to a return to a grand chorus show on which the Schmeckfest musical was built beginning in the 1970s? Some stick-to-itiveness by key players, cooperation by many others, and some good old-fashioned providence.
"I don't want to get corny, but truly God took a hand," says Carlson, referring specifically to some early doubts about whether she would be able to pull this off. "I would lay awake and go, 'OK, you're going to help me, right?' And he would open another window and provide the people."
The question of whether the Schmeckfest musical would return was, of course, directly tied to questions about the festival itself.
Freeman's annual celebration of its Germans-from-Russia heritage was launched by what was then known as the Freeman Junior College and Academy Women's Auxiliary as a one-time gathering in 1959 and quickly ballooned into a multi-day, multi-layered festival requiring thousands of collective hours by hundreds of community volunteers.
And while Schmeckfest marched along strong in the decades that followed, more recent years revealed quiet concerns about sustainability of the workforce required to pull off such a large-scale event that had annually catered to as many as 5,000 people over two weekends.
So when the coronavirus pandemic hit three years ago and Schmeckfest was canceled for three consecutive years, the leadership and support system at Freeman Academy — the host and beneficiary of the festival — took a hard look at what the future might look like.
"The whole festival is in a massive state of flux right now," says Carlson, who was part of those conversations last year that ultimately led to a new leadership structure and the decision to, at least for 2023, trim Schmeckfest back from a two-week Friday-Saturday event to a two-day festival and see how it goes.
The show will go on
Luckily for Carlson and others who feared the tradition of stage productions as evening entertainment would get lost in the process, it was always just assumed by others in leadership that the Schmeckfest musical would continue in step with the rest of the festival.
While that was good news for Carlson, who had agreed to be the steering committee's representative for the musical, the timing was not.
It wasn't until October — when it became clear to Carlson that staging a musical was the assumption — that she first got to work on a process that would ordinarily start months earlier.
That prompted her to, very quickly, agree to direct the show and to choose "State Fair," a musical she became familiar with when she directed it for the Freeman Area Children's Choir in 2013. Rights then had to be secured through the holder of the show, Concord Theatricals (which takes time), and Carlson needed people — lots of them.
Still, despite those early obstacles and initial "wave of panic," she was optimistic.
"Another way of looking at the three-year hiatus, was, maybe everybody's refreshed and ready to come back," says Carlson. "Maybe other people are hungry; maybe other people have missed it.
"With each key yes," she continued, "the snowball began to roll."
While the director was met largely with a positive response, casting the show wasn't without its challenges. The biggest, perhaps, was finding somebody to play the patriarch of the show — Abel Frake.
Enter Peter Tuff.
Tuff, a professional singer whose stage credits include work in the greater Bay Area of California and 10 years at the Vienna State Opera, moved to the Sioux Falls area from Colorado Springs two years ago after taking a job as the Artistic Operation Director for the South Dakota Symphony Orchestra. Carlson learned of Tuff through Anne Waltner, the principal pianist with the symphony who also serves on the board of directors at Freeman Academy (and happens to be married to the "State Fair" orchestra conductor, Dr. Rolf Olson).
"Literally, the last piece to fall in place was Peter, and that felt like a bizarro leap of faith," said Carlson, who wondered why somebody with his credentials would want to take part in something he knew virtually nothing about. "I didn't know anything about this guy other than he works for the Symphony."
She called him at Waltner's urging "and instantly got this warmth coming over the line," says Carlson, who notes that his "yes" was almost instantaneous. "I said, 'OK, but you know, you've been a professional opera singer in Vienna; why would you do this?' He said, 'I'm 62 and my chords still work and I don't get a lot of chances …"
The enthusiasm showed by Tuff was an exclamation point on a process that had its ups and downs, but was ultimately met with more highs than lows.
"From the second he said yes, I was like, 'We're OK,'" said Carlson. "We're better than OK."
Team building
Meanwhile, other key pieces had fallen into place: Local artist Michelle Hofer would return as the set designer; Amy Hofer Vetch, who was an early and key supporter of Carlson, signed on as the choral director and Olson agreed to lead the 17-member orchestra; Jill Hofer and Madeline Hofer — Michelle's oldest daughter — would co-chair the costume team; Kathryn Rose Reimler, a dance instructor in Yankton, would be the choreographer; and Carlson's husband, Brad, would be both the stage manager and "voice of the Iowa State Fair."
Other longtime production team members would be back, too, like Chris Glanzer and Ben Carlson on sound, Libby Miller on hair and makeup, Deb Beier on properties and Jeffrey Preheim working with Michelle Hofer on lighting design.
All told it's a production team numbering nearly 50.
Add in the cast of 36 and orchestra of 17, and the team assembled to prepare and present "State Fair" climbs to more than 100. As Carlson writes in her Director's Notes in the programs that will be handed out to audience members next week, "it took a village" to bring the Schmeckfest musical back to its former self, "and this is a pretty great little village."
Among those returning to the stage is Sonora Myers, who had been cast in the title role for "Matilda the Musical" but never got a chance to perform. Now 16 years old, she's taking the Pioneer Hall stage, not in a lead, but as a member of Iowa State Fair-performing Fairtones.
"It's definitely different, but I'm having so much fun," says Myers. "Like the last show, I'm loving it. Big joy."
And while it's been three years since she last worked on a musical, she said it feels familiar.
"You still feel that ownership when you walk on stage," says Myers. "I know I've been there before and can just step forward and raise those eyebrows and make the eyes big and just own the part.
"It's going to be really exciting to actually put a show on."
For Peter Tuff, exposure to the Schmeckfest musical — and by proxy, the festival itself — has been right up his alley. The decade he spent as an Opera performer in Austria raised his awareness, appreciation and fluidity for the German language, so when he saw the word "Schmeckfest" somewhere along the way, "I thought, 'Schmeckfest. That sounds good. I've got to do that.'"
Then came the connection between Tuff, Anne Waltner and Kris Carlson, "and the rest is history. It's a challenge making it work with a very busy job in Sioux Falls with the symphony season still going on, but it's so worth it."
And Tuff marvels at the effort, the talent and the transformation of the Pioneer Hall auditorium into a theater.
"It's great to see this regional Schmeckfest company coming out of the pandemic blues and putting a show up," he said. "I've been pleasantly surprised at the talent of all my colleagues here."
As for the unique space in which "State Fair" is being performed — Pioneer Hall was built in 1950 and the auditorium has seen few updates since — it's a far cry from other venues in which he has performed, like at the Salzburg Festival held annually in Austria near the birthplace of Mozart.
But the venue "is not the thing that you focus on when you're bringing a work to life again," he says. "It's about the writing and the relationships and the action and the fun. Musical theater  is such a multi-faceted art form; if you're in a gym that hasn't been updated in 75 years but have people here who are making it work and adding color and pizazz and functionality and extending the capabilities of the existing space, that's a great thing.
"Whatever it takes to bring entertainment, music, drama, comedy, art, personality to life and deliver it to people … let the show go on."
Full circle
For Carlson, the fact that the show is going on once again is nothing short of a dream come true.
"This festival has just been such an integral part of my life since I was a little girl," says Carlson, whose Schmeckfest directorial credits include "Cinderella" in 2006, "Carousel" in 2002 and "My Fair Lady" in 1993. "It's a part of the seasonal year for me, because it was for my family. It's the bridge that gets you from Christmas to Easter — the bridge that pulls you through the dark slog of January and February. It's a holiday — second only to Christmas."
Like others in Schmeckfest leadership, Carlson doesn't know what the future of the musical looks like beyond 2023, but her focus is squarely on "State Fair." It's been that way from the start.
"Even though all the questions surrounding the Schmeckfest musical are not resolved, I've always thought, 'We can do one more,'" Carlson says, thinking back to the havoc the pandemic raised. "Covid will not be the thing that kills this."
And lo and behold, here she is, leading the way and directing what she believes to be the perfect show in the perfect time.
"We're doing it old school," she says. "We're doing the kind of show that people remember."
And, she adds with unabashed confidence, "people are going to love it."