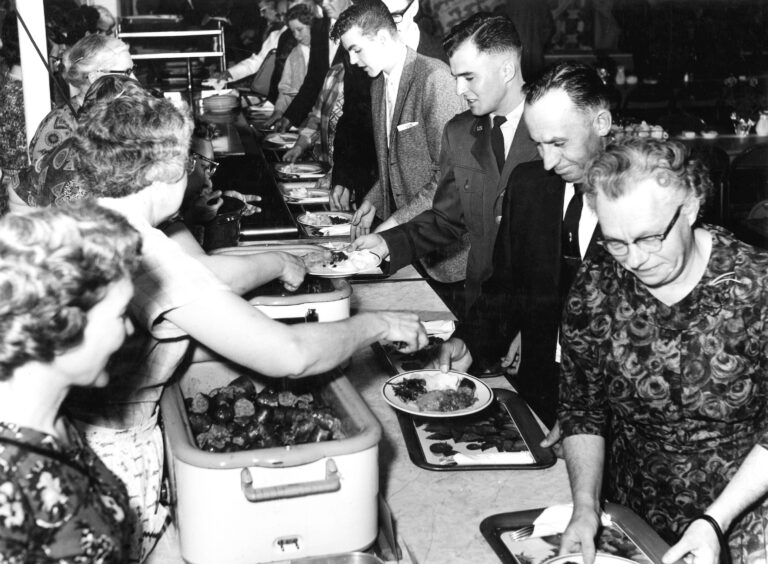 news
SCHMECKFEST OF 1959: 'IT WAS A DISASTER'
Editor's Note: This story was written by Jeremy Waltner and first published on the occasion of the 50th anniversary of Schmeckfest. It originally appeared in the March 12, 2008 edition of the Freeman Courier.
Even the state's largest newspaper, the Sioux Falls Argus Leader, must have sensed something special was about to happen.
In its Feb.9, 1959 edition, the Argus profiled the Freeman Junior College Women's Auxiliary and its 10 years of service to the school. The story focused on the membership structure — $25 got you a lifetime membership, or you could pay $1 per year — as well as various projects the 165-member organization was taking on.
But it also made reference to the celebration the Auxiliary was planning as a way to commemorate its decade of service. And while the word "Schmeckfest" was nowhere to be found — that word didn't appear until it was published in the Courier the following month — the Argus Leader article appears to be the very first to reference in print what would become Freeman's hallmark annual event.
The story concluded:
"Ten years of such worthy achievement rates a celebration and the ladies are making plans for it. The definite date has not yet been set but it is planned for some time in March, the anniversary month. Since the auxiliary is composed of ladies from 'East Freeman,' 'West Freeman' and those living north of town, three dialect groups of the same nationality extraction and commonly known as 'Schweitzers,' 'Hutters' and 'Low German' it is only natural that they are planning a 'traditional' entertainment.
Such a celebration deserves the dignity of a name, doesn't it?
'Yes indeed,' says Mrs. Charlie Fliginger, acting president of the organization.
'We haven't fully decided yet but that it will be a 'schnitzel' of some sort.'"
Fliginger's 'schnitzel,' of course, would become Freeman's Schmeckfest, which in just a matter of weeks will be held for the 50th year in a row; Schmeckfest 2008 is scheduled for March 28, 29,, April 4 and 5. It will be a remarkable milestone for an event that grew from unimaginable chaos.
The fact that the school's auxiliary chose to hold its 10th anniversary celebration on Friday the 13th — March 13, 1959 — is likely coincidental. But if the ladies of the organization had known of the chaos to come, it may have chosen Saturday, March 14, instead.
It wouldn't have mattered.
More than 1,000 guests overwhelmed workers at the event named "Schmeckfest," designed as an all-you-can-eat smorgasbord of traditional German dishes.
Celia Fliginger, the auxiliary president in 1959 who passed away in November of 2003, has indicated that she and others expected a modest turnout for what they figured would be a modest event.
A box full of notes, records and newspaper clippings preserved at Heritage Hall Museum and Archives contains Fliginger's memories about that first year. They are handwritten on spiral-bound notebook paper and appear to have been penned years later.
"After much thought and discussion we agreed and this will be a tasting festival," she wrote in reference to the week's leading up to March 13, 1959. "We will have many varieties of food, so we will be tasting – the German word for tasting small pieces of food is 'schmeck.' The word for festival is 'fest' so we have Schmeckfest. I remember how we stood near the stainless steel counter and we agreed on the name."
(Reportedly, the auxiliary had considered using the word "Schnitz" in the title – which in German means "piece," or "sampling" – but decided against it because that was the name of a bar in Menno.)
Schmeckfest – a word that was either hyphenated or in quotations in the early years – would include an evening talent show beginning at 8 p.m., and was billed as an all-you-can-eat event where guests purchased tickets at the door: $1 for adults and 50 cents for children. Forty-nine kitchen workers and 15 waitresses worked the dining hall.
Guests were invited to make their way through the line where they were handed dishes like grune schauble suppe (green bean soup), dampfleisch (dried fruit sauce) and mach kuchen (poppy seed rolls).
It all went just as planned.
For a while.
But it didn't take long for workers to realize they were in trouble.
"We started with 200 people in mind," wrote Fliginger. "After hearing so many people talking about it we doubled the amounts."
It wasn't nearly enough.
Even in their recalculations, organizers had woefully underestimated the turnout for the first Schmeckfest; food was disappearing quickly and the line of hungry guests waiting to dig in extended the length of the basement dining room, up the stairs and outdoors along the north side of Pioneer Hall.
"We just never anticipated what was to come," says Ruby Waltner, a lifetime member of the Auxiliary who was in her mid-20s at the time; she was one of the workers in charge of handing plates of food to the guests.
Looking through the basement windows, recalls Waltner, "I remember seeing the legs of people lined up outside, and they would slowly move forward. And we were running out of food!"
It didn't take long for the German dishes to dry up, and workers scrambled to make more fleisch kuchele (hamburger in dough pockets), the one ethnic dish that could be made in a hurry. More food – any food – was purchased at grocery stores.
Of all the memories Waltner has to this day, none is as vivid – or terrifying – than that of her serving a prominent businessman from Marion.
"He couldn't wait to get all of this German food," she recalls, "and I handed him a plate with a hot dog and peaches. That still horrifies me to this day."
"It was so popular because we said you could taste all the different German foods and you could take as much as you wanted," wrote Fliginger. "Not everybody could get all they wanted, however."
And some got none.
"It was a disaster," says Waltner.
"Many of the old-time savory dishes were emptied before all the crowd was served," wrote Fliginger. "Many left to eat at the downtown café (and) soon every café was sold out."
Fliginger's notes indicate that serving stopped at 8:10 p.m., just under three hours after it began.
"Some things are now starting to come out about how disastrous that first Schmeckfest really was," said Norman Hofer, a local historian who will speak about that day back in 1959 during his presentation, "Schmeckfest, 50 Years of Memories," scheduled to be presented each afternoon of this year's festival. "If it wasn't a disaster, it was certainly a public relations problem."
Hofer and his wife, Darlene – married two years prior – were two of the lucky ones. They were fortunate enough to arrive at that first Schmeckfest early and filled up on the food that would later run out.
"We ate, and we never knew anything was wrong until much later," says Norman. "But I remember that line of legs (out of the window). That's what everybody seems to remember."
"When the first Schmeckfest was over, there was only relief that it had come and gone," wrote Fliginger. "The good food and entertainment had been appreciated and talk of next year began to circulate."
But Waltner says shortly after that first festival, the likelihood of another Schmeckfest seemed low.
"They thought, 'we're never going to do this again,'" she recalls.
But a news brief in the Mitchell Daily Republic following that first Schmeckfest may have been just enough to prompt the Auxiliary to consider trying it again.
"It may have been enough to tip the scales," Hofer says of the piece in the Republic, which read:
"Seems that the old-fashioned Mennonite Smorgasbord was such a hit that a lot of the folks didn't get a chance to taste that variety of food provided by the ladies including many of the dishes from the 'old country.'
"They originally planned for 200 people. Decided maybe to double it for 400 persons, changed it again – and finally wound up serving about 1,000 people and not being able to get in before the delicious food was gone.
"If you folks have another – we'd like to know about it. We're intrigued by food – especially when it has a novel touch like the many favorite foods of those people who have brought the recipes from their native lands."
A number of notable changes were made for the 1960 celebration, but none were more significant, perhaps, than the decision to hold Schmeckfest two consecutive days.
Roughly 1,400 guests showed up for that second festival. It was the first year waiters and waitresses wore checkered aprons.
That first Schmeckfest generated $813.12, which includes proceeds from the offering taken at the evening talent show.
By comparison, Schmeckfest 2007 generated a profit of $106,834.95.
Fliginger made a list of 12 suggestions for ways to improve Schmeckfest. All are written in her notes from that first year, and are as follows.
The people were standing in line the length of Pioneer Hall. It was rather cold after sunset, and snow and slush on the sidewalk caused cold feet. Suggestion given: the line should be formed in Pioneer Hall.
It was suggested tickets should be sold or reservations sent in. Some think this would cut our attendance but it gives us some idea of the amount of food to prepare.
The price of adults $1.00 and children 50 cents was too cheap. Should be at least $1.25, 65 (cents) children and some for preshoolers.
Someone suggested people should be allowed to help themselves, they wouldn't take as much as we dished up for them. We think it is better for us to dish up because people are too slow to make up their minds – which would make serving very slow. Some parents also filled up the plates of children so they will have more to eat. Father said, "let them taste everything, if they can't eat it I will."
There were a lot of children missing because they don't like some of the traditional foods. Some children said, "Now Mommy tell me what I like."
It would be well to put the English name after the dialect food name because of the strange names.
The first few hundred people were very well satisfied. The coffee cups, tumblers, silverware, napkins were on the tables. This should have made it easier for the waitresses. The work was not well organized. The table should have been filled so all could be served coffee and then the entire table could have been cleared.
The dishwashers were not organized either. We should have had a number at each sink and someone replace the dishes in the serving line and at the tables.
Someone should have been in charge of all the food that was brought into the kitchen. Everyone was excited and they didn't come until 4 o'clock and some came after 5 o'clock after the serving had started.
Some suggested have two nights. I would think begin serving at 11 o'clock, and continue through the afternoon and evening. Perhaps a student recital in the afternoon and a play in the evening. Rural people could come at noon because of chores which would be more convenient.
Could do some food preparing in the Home Ec Room. Have a supply of food on hand – for instance, lots of soup, cans of sauerkraut, ring bologna could be bought in large quantity.
Some members thought it was too bad we advertised they could take all they want, and we didn't allow it.
Forty-nine years after that disastrous first Schmeckfest, the event is one that continues to be immensely popular and draws hundreds, in fact thousands, to the Freeman community every spring.
"Now it runs like clockwork," says Ruby Waltner, who lives in Freeman with her husband, Don, and continues to volunteer at Schmeckfest. "It's a miraculous thing."
"It's an unbelievable story," says Norman Hofer, who says the fact that a town the size of Freeman – 1,300 – can put on a festival that draws four times its population is unheard of.
"In the annals of tourism," he says, "Freeman is in a class by itself."