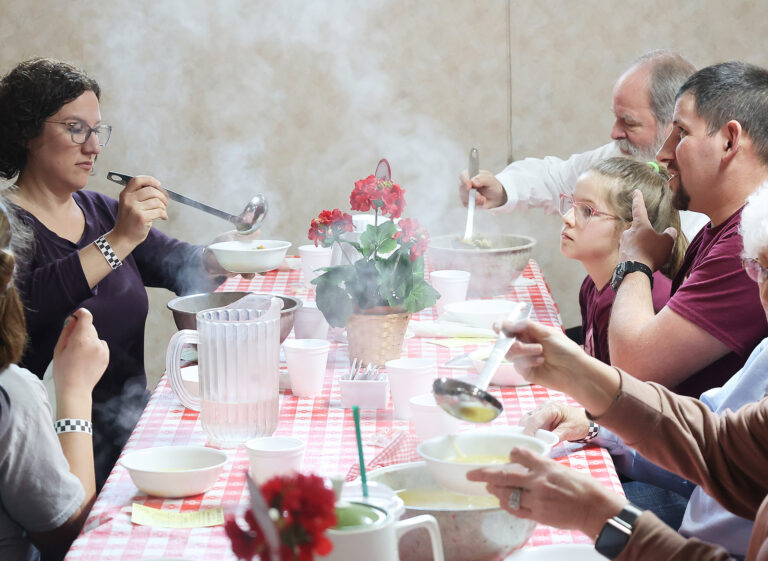 news
SCHMECKFEST: IT'S BACK!
JEREMY WALTNER – PUBLISHER
"Do people want Schmeckfest or what?"
That comment was delivered with enthusiasm from Freeman resident and longtime festival volunteer Susan Schrag around 4:45 p.m. Saturday, March 25, as hundreds gathered in Pioneer Hall, the adjoining Link and Sterling Hall auditorium, waiting to head downstairs for the meal.
That's really all one needs to know about the return of Freeman's big tasting festival after a three-year, Covid-induced break.
"I'm almost speechless," said Vernetta Waltner, who stepped in as the temporary Schmeckfest coordinator until the new, part-time paid position can be filled by Freeman Academy permanently. "It's hard to estimate how many people were there, but it was probably more than any of us thought it would be."
Indeed, the Freeman Academy campus was flooded with guests during the 62nd festival of its kind held over two afternoons and evenings Friday and Saturday, March 24 and 25, and the bottleneck of people waiting to eat on Saturday was the best example of that.
"It was tense on Saturday night," Waltner said. "People were not tense, but I got tense because I had 400 people in the gym (waiting to go downstairs). It was nice and steady at first, and then, all of a sudden, everybody came.
"This just shows that people still enjoy this, they still want to be part of it, so if we can find ways to provide that, we should continue to do this."
Large crowds were evident elsewhere, whether it was in line for sausage and New Year's cookies in the school maintenance building, in attendance at the five spotlight food demonstrations inside the Sterling Hall auditorium, crammed inside the instrumental room to hear the Freeman Academy Musical Showcase, or those attending the evening performances of "State Fair," which played to sell-out or near sell-out crowds both nights of Schmeckfest, as well as the Thursday evening leading up to the two-day festival.
But perhaps nowhere were the large crowds as consistently steady as they were inside Heritage Hall Museum & Archives, where a host of demonstrations and programming took place both days.
"It was a little overwhelming, but so much fun to see so many people," said Marnette Hofer, who is the archivist and executive director at the museum. "It was a good weekend and really affirming."
Based on the number of wristbands that gave guests full access to the museum and all of its activities, about 950 people visited Heritage Hall Museum & Archives during the two days of Schmeckfest. And the special programming — particularly the Heritage Pickers that featured short talks by experts in various fields — appeared to be a hit.
"People like to have options and things to do," Hofer said. "Heritage Pickers kind of started on a whim (in 2018) and nobody really knew what it was, and now it's, 'We're coming for that.'"
While this year's Schmeckfest was not without its challenges — the amount of snow still on the ground created parking issues, several food items ran out toward the end of serving both nights and there was one plumbing issue that had to be addressed — by all accounts it was an overwhelming success, and Waltner says Schmeckfest will return for the 63rd year in 2024.
"It's going to happen again," she says.
And while the dates have not been finalized, Freeman Academy confirmed early this week that it will be held in March.
But Waltner says she won't be in the role of coordinator when it happens, and exactly what next year's festival looks like will be determined, in part, by whoever takes the job and whoever is on the steering committee that helps.
"I love doing this kind of thing; I just don't feel that I have the mental sharpness and endurance to continue to do it," Waltner says. "I don't think I could have done it this year without all the people praying for me. I really believe that."
Waltner says she was talking with Paul Ortman, who is in charge of the Schmeckfest website where guests order their meal and musical tickets, and they agreed that they prefer the one-weekend format over the two-weekend festival that was the norm from 2005 through 2019.
"It's a little more intense, but having a really big weekend and full houses, and getting it all done at once, is a better plan," she says. "Taking up two weekends just gets too busy for everybody, especially this time of the year."
And her favorite part was something that is really at the heart of Schmeckfest regardless of its format — meeting and greeting old friends.
"There were some really special connections that I wasn't expecting," she said.
Norman Hofer agrees that those relationships are central to the event.
"The meal is great, the musical is great, but it's these tables and these connections," he said, pointing to the seating area inside the Sterling Hall auditorium. "The older we get, the more it means."
Here's a closer look at the 2023 Schmeckfest through a variety of notes, quotes and observations.
Food glorious food
Debra Schmeichel, who was in charge of the food for the Schmeckfest meal, said in the week leading up to the festival that she was nervous about quantities and having enough. While organizers knew that all 1,000 tickets had sold for both meals, the unknown was the demographic that would be represented, and just how much they would eat.
Well, a younger-than-usual crowd came, and boy did the people eat.
"It was what I thought would happen that I had hoped wouldn't," she said. "It was mostly a 30-, 40-, 50-year-old age group and they ate four years' worth in one sitting."
Given the unknowns, Schmeichel and her team did well generally, but a handful of people didn't get stewed beef and fried potatoes on Friday and stewed beef and kuchen on Saturday.
"Most of the other foods were low, but we had options," she said, shouting out both Jamboree Foods and Freeman Shopping Center.
"This community should absolutely know how fortunate we are to have two grocery stores.  They were at our beck and call. I cannot say enough about them. If local people are not supporting our grocery stores — what a shame."
Schmechiel also noted there was a considerable amount of food that went to waste; she estimated there were about 15 gallons of scraps each day that would have otherwise greatly aided in the food shortage.
"It all adds up," she said, thinking back on the signs at buffets she remembers growing up that read, "Take all you want, but eat all you take."
She said a friendly reminder along those lines might help solve that problem going forward.
Mix-up
A number of weeks before Schmeckfest, Nathan Epp, who managed tickets with his wife, Sheila, received a call from a man in Montana who had always wanted to attend Schmeckfest and had some questions before purchasing tickets. The man eventually called back after realizing there had been a mix-up — that he thought he was buying tickets to the Schmeckfest hosted by Lustre Christian High School in Lustre, Mont., which also happens every March.
What comes around …
Joyce Hofer was a junior in high school when the first Schmeckfest was held in 1959 and worked alongside her mother, Jessie Wollmann making fleisch kuechle and remembers going to the grocery stores to buy more hamburger when the food ran out. Now 81, Joyce was involved with the traditional hamburger-in-a-dough pocket dish again last week, this time demonstrating how to make it in one of five spotlight food presentations.
Ticket count
While all 1,000 meal tickets were sold in advance, about 950 were turned in for the meal both Friday and Saturday. And the final tally for the productions of "State Fair" is 450 on Thursday, 550 on Friday and 580 on Saturday. That includes both reserved seating and general admission.
The real deal
The crocks that Sonja Waltner, who played Melissa Frake in "State Fair," uses for the mincemeat she takes for judging at the fair was actually filled with mincemeat made by props mistress Deb Beier — minus the brandy.
Family ties
For a number of those involved with this year's Schmeckfest musical, it was a family affair. Charles Fink was on stage with his daughter, Ashley; Lynnelle Allison was on stage with her daughter, Angelyn; Sonja Waltner was on stage with her son Brennan (and joined by brother Rolf Olson, the orchestra conductor); and Kathryn Rose Reimler was joined by her daughter Margaret as tap-dancing animals. Joshua Hofer took the stage with his wife, Lynelle; director Kris Carlson was joined by her husband, Brad (stage manager and fair announcer), while her son, Ben, worked with sound and Ben's wife, Bailey, was in the company.
The company also included siblings Sam and Estelle Waltner; Andre Eisenbeis and his uncle, Philip; Cindy Graber, whose sister, Amy Hofer Vetch, directed the chorus; Lois Wollman, whose husband, Craig, played bass in the orchestra; and Patrick Hofer, who shared the stage with first cousin Jeremy Waltner.
Additionally, Kenny Birkey, who played the role of Harry, is married to Aprille, who worked with makeup; Dr. Anne Waltner played piano in the pit under the direction of her husband, Dr. Rolf Olson; and set designer Michelle L. Hofer was joined by her oldest daughter Madeline.
Role Play
"State Fair" marked the 44th consecutive Schmeckfest musical for Monte Waltner (that includes a cameo in 2018's "Godspell" and "Matilda the Musical," which never went on. His role as police chief was the seventh time he has played a police/military part. Monte has also served drinks in seven shows, played eight "bad guys," has died twice and played one flying monkey.
Sneak peek
"Can we go look in the orchestra pit? Our music teacher is playing." That comment was made by a child waiting in Pioneer Hall to go downstairs for the meal, and Schmeckfest workers were more than happy to accommodate. The teacher? Brittney (Ries) Kempf, who played Trumpet 2 and teaches elementary music in Sioux Falls.
Backed up
One of the obstacles Schmeckfest had to deal with this year was backed-up plumbing Friday that made the restrooms in Pioneer Hall unusable that evening. The issue was caused by somebody who flushed something down a stool they shouldn't have. "We were proactive before Schmeckfest," said Vernetta Waltner. "We made sure plumbing had been taken care of." Chalk this one up to a case of, you never know what's going to happen.
Rave review
Because he has strong appreciation for music and plays several instruments, Gayville-Volin seventh grader Tristan Nelsan was most looking forward to hearing the orchestra during the performance of "State Fair." And what did he think?
"It didn't feel real to me," he said. "It felt like it was pre-recorded."
They said it
"You're thinking — it's soap. It's got to be self-cleaning." – Lillie Eisenbeis, in her Heritage Picker demonstration on soap-making at Heritage Hall Museum & Archives, and the amount of work that goes into the cleanup.
"So when you go home, say 'thank you' to your clothes hanger." – Donna Zeeb, in her Heritage Picker presentation about the history of hangers.
High demand
The Schmeckfest meal wasn't the only place guests clamored for food. The Country Kitchen, which features baked items like noodles, poppyseed rolls and jellies, was mostly sold out by 1:45 p.m. on Saturday. And speaking of demand, one of the changes this year was the discontinuation of ongoing food demonstrations, and that included cheese pockets. Vernetta Waltner said a number of people lamented that loss on Friday, so Skyla Dowden got to work, taking it upon herself to fry 25 dozen of them that were then transferred to a crockpot and sold at the Schmeck Shoppe.
"We had thought about doing it earlier, but we just didn't know who would do it," said Waltner. "So some people extended themselves, over and above, to provide what the public wants."
Customer service
Les Rensink, a career pork producer, has long worked with the sausage making and sausage demonstration and was at it again last week. He said interacting with the men and women who come through the line and purchase the popular Schmeckfest food is always a treat.
"I raised enough pork to feed a small city," he said, "but I never got to meet the customers."
Read all about it
The copy of the newspaper that arrives at the Frake home at the end of "State Fair," which details the account of the prize-winning family, was actually a specially-produced newspaper designed by former Courier Publisher Tim L. Waltner and printed at Rocket Printing — the plant in Armour that prints The Courier. The four-page publication included photos of cast members acting out scenes and numerous tidbits about the Iowa State Fair, the Schmeckfest musical and what life was really like in 1946. Additional copies were printed and sold for $1 at Schmeckfest, and a limited number of copies remain available at the Courier office. As is the case with all of Schmeckfest, proceeds go to Freeman Academy.
Hands off/hands on
Matthew Walicke, an organist and the director of music and worship arts at Gloria Day Lutheran Church in Sioux Falls, was walking through Heritage Hall Museum & Archives with his wife, Tasondra (who played the clarinet/tenor saxophone in the "State Fair' orchestra), when he came across a display of several pump organs. To his chagrin, he saw several signs asking guests not to play the organs; "I've never wanted to touch an instrument more in my life," he said. Then, to his delight, he found a pump organ that said guests could play it, so he sat down and went to town, joking, "I charge $90 an hour."
As for Tasondra, she said the "State Fair" experience was amazing.
"I've been talking all week about how impressed I am with the talent here," she said. "It's crazy talent. Every night that we've played the show I leave going, 'I can't believe that just happened.'"
The same could be said of the 62nd Schmeckfest, which is finally — finally — in the books.