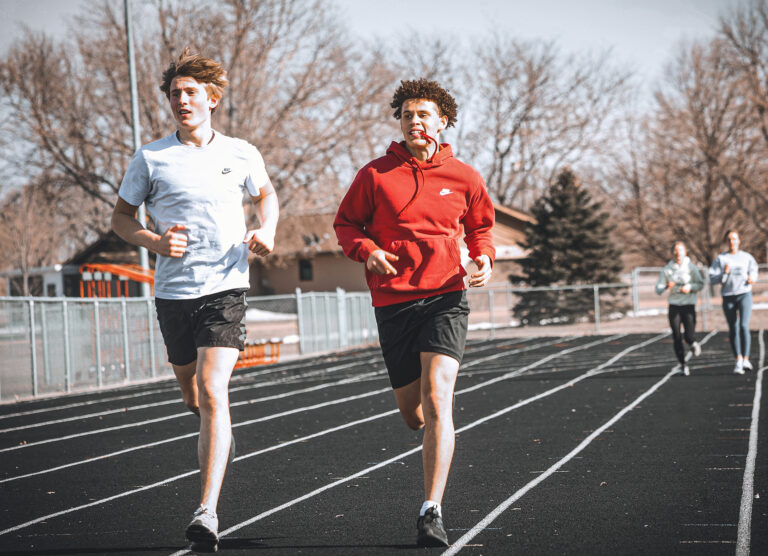 news
'IT FEELS GOOD TO RUN FOR SOMETHING – FOR SOMEBODY'
The Courier is making this story available for free to all. If you support this type of community journalism, please consider signing up to receive the award-winning Freeman-based weekly newspaper. Call 605-925-7033 for more information.
After weeks of grumble-worthy weather that limited training to either an indoor agenda or a cold outdoor experience, track and field athletes were finally given spring-like weather last week. But the sun that warmed the shoulders and the mild 60-degree temperatures of the afternoon were not what made track practice at Freeman Public on Thursday, April 6 so special.
Rather, it was the spirit behind what they were doing and the collective effort in somebody else's name that made what took place over the course of 60 minutes so memorable to those who lived it — and those whose lives will be touched because of it.
For one hour last Thursday, more than 60 track and field athletes from Freeman Public representing grades 6-12 were running laps for Kobee Sherman, a Viborg-Hurley junior who in March was diagnosed with osteosarcoma, a serious bone cancer that had spread from his knee to his clavicle, vertebrae and lungs.
Just two weeks before his diagnosis, on March 17, the 16-year-old had been part of the starting five on Viborg-Hurley's Class B basketball state tournament team and whose 20 points on 5-of-8 three-point shooting had helped spark the Cougars in a big second-round win over Ethan.
But a checkup for pain in his knee resulted in what few could have imagined after watching Kobee play on Don Meyer Court at the Barnett Center in Aberdeen — that an upcoming track season would be replaced by treatments for cancer.
That reality is what has spurred multiple school districts across the area to take action in support of the Sherman family, and last Thursday it was Freeman Public's turn.
Sponsorships from businesseses and individuals rolled in in the short amount of time in which the track program put the fundraiser together, and donations would be based on the number of laps fun from 4:30 to 5:30 p.m. last Thursday.
"I saw what Viborg-Hurley was doing for Kobee and his family and thought there was no better way to support him than doing the same thing," said Amy Sorensen, the head track coach at Freeman Public. "A lot of people don't think of track and field as a team sport; they think of it more as an individual sport. But I said, 'We are a team, we are all going to be part of Team Kobee, run for him and dedicate that time to him, his family and the Viborg-Hurley community."
Sorensen said the sponsorships came in from "everywhere" — from individuals and businesses donating based on the number of laps an individual runs, to someone who is sponsoring the football players on the track team to the tune of $25 for every eight laps they cross.
"The support has been huge," said Sorensen, who has been a radiation therapist for Avera for the past 16 years. "I told the kids what that looks like, and that I help take care of cancer patients, and that in and of itself means this is close to my heart.
"And the kids were all on board and have stepped up big time."
"To be here means a lot and I want to run as many laps as I can for him," said freshman Luke Peters. "To be out here with my friends and my teammates, it's special because I know I'm running for something — for somebody; that's what motivates me to keep going."
With last Thursday being the first truly nice day of the spring, those affiliated with track and field at Freeman Public spent the first part of the practice pulling out and setting up equipment before assembling near the start line for instructions.
The coaching staff — which in addition to Sorensen includes assistants Jenny Peters and Jessie Ahlers — had identified eight captains based on the number of lanes on the track, and then randomly divided the group into eight teams. The expectation was that somebody from each team would be running every minute of the hour — therefore filling each lane — and coaches and team managers were there with clipboards rigorously recording every lap.
"You're not running against each other," Peters told the group before they began. "It doesn't matter whose team you're on because we're all — what?"
"Team Kobee," the students responded.
"Just think about Kobee when you're running and our purpose here," Peters continued. "Think about him, his family, his friends; it's a really tough situation to be in. This is a simple thing we can do, and just be proud and happy that you can be here doing this."
"If he could do this he would," Sorensen said. "So we're going to do it for him."
The goal was to collectively run 250 laps.
They ended up running 610.
"Flyers, you did an amazing thing today," Sorensen told the team before they ran one final lap together. "Some of you don't know Kobee, some of you do. But what you did for him and his family, the money that you raised, the time and effort you gave to this project, the spirit, the energy, all of it — it goes a long way."
Ashlin Jacobsen, also a junior, said when a family like the Shermans goes through something like this, it touches everybody.
"This is just one way we can help support and give our love to his family and know that we're behind him every step of the way," she said.
"We're not the only town that's doing something like this," said Evan Scharberg, also a junior. "You have to think about, if you're the parents or that kid, how this must look to them, and if you're that kid, just what you would do to get back out here and have some fun again."
Sorensen noted afterward that it didn't matter if they were distance runners or not, everybody took part with a willing heart.
"Some of these kids — these are not long-distance kids, and to ask them to run an 800 or mile or two-miles, that's asking a lot," she told the Courier afterward. "Some of these kids are sprinters, throwers — this is outside their box. And you didn't hear one complaint. It was truly effort. Absolute team effort."
"I'm truthfully speechless," she continued. "Incredible. One hour dedicated to someone else's life, someone else's cancer journey, to a fellow friend, student-athlete from another community that half these kids don't know … it's truly amazing."
Just how much money was raised at last week's "Run for Kobee" fundraiser hasn't been revealed, but a check will be presented to the Sherman family at the Flyer Invitational at Freeman Public next Thursday, April 20.
Sorensen says it will be special because of that small-town connection that runs so deep through Cornbelt Conference territory.
"We play Viborg-Hurley a lot in all athletics; kids know kids, kids know kids' families," Sorensen said. "And when someone needs help, this just shows what communities can do for each other."