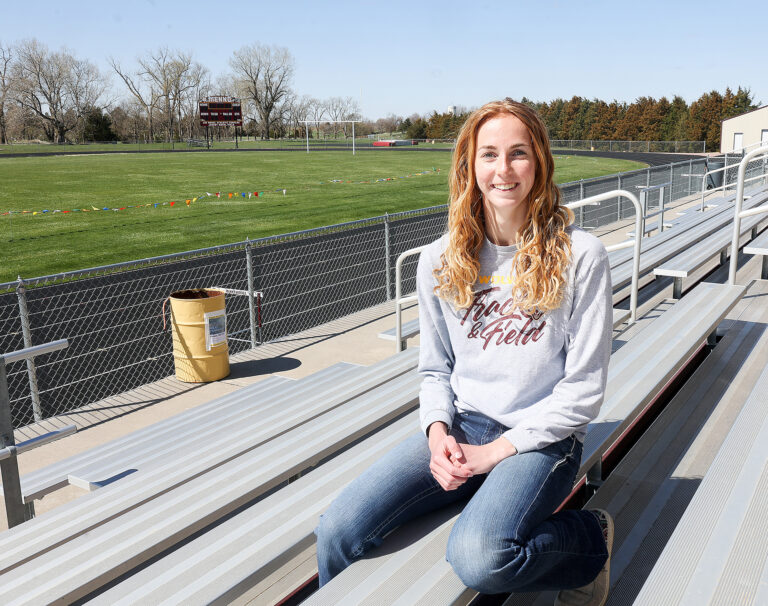 sports
RETURNING THE GIFT
JEREMY WALTNER – PUBLISHER
As a successful student-athlete at Menno who just keeps getting better and better at her marquee sport, track and field, Ashton Massey has her sights set on the final weeks of the season — and with good reason.
As of May 1, the junior who is no stranger to state competitions had clocked the fastest Class B time in the 300 hurdles, the longest distance in the triple jump, was tied for second in the state in the 100 hurdles and was sitting seventh in the 400. Not only that, she wants to do everything she can to help the Wolves' 4×800 relay team reach its goal of setting the school record.
But that's not all Massey is focusing on in these fleeting weeks of the 2022-23 school year. She is also putting her big heart, deep soul, contagious energy and bright smile into a project she has been building from the ground up this spring — a youth track meet for children ages 3 to 5 and in grades K-5 set for Sunday, May 21 at 3 p.m. at the Jim Woehl Track Complex in Menno.
While it is free to those taking part, Massey's youth track meet is a fundraiser, with all proceeds from concessions and the sale of T-shirts going toward the track program in Menno.
Those who would like to participate have until next Monday, May 8 to sign up.
A form is available via a link on Massey's Facebook page, or by contacting her directly at 605-660-1371 or ashtonrm18@gmail.com.
And it is open to all.
"Even if you're from Iowa or Minnesota," Massey says, "if you find out about it, you can come."
Giving back
Massey's relationship with track and field goes back to her sixth-grade year and she says she drew a lot of inspiration from watching her one-year-older brother, Tyler, compete in the events she loves today. And with her coaches and teammates — both past and present — serving as motivation for her to get better, organizing a track meet for the children of the area is the least she can do for a community that has done so much for her.
"The Menno track team has given me so much personally and this is just a way to give back to them," she says. "This is probably the best way I can do that, and also inspire the little kids in my school and other schools around."
Massey's youth track meet will feature two field events, six individual running events and a 400-meter relay, with ribbons awarded to the top three finishers in each heat.
"I'm really excited for the 4×100," she says. "We're going to pair kids together who we think will be great competitors, give them batons, and we'll see how it goes."
The idea, she says, is to provide both opportunity and inspiration.
"The goal is for these kids to get into it young, want to do it, and have a desire to compete in athletics when they get older," she said. "I got started in sixth grade, which is late. I think the earlier the better."
Still, Massey has done well for herself.
Growing up
In five seasons running for the Wolves' cross-country team, she has qualified for state every year, and she enjoyed a breakout season on the track in 2022 when she won three individual medals at state — fourth-place finishes in the triple jump and 100 hurdles and a fifth place showing in the 300 hurdles.
"Nobody works harder," says Ryan Liebl, who coaches the girls track and field team at Menno. "She's the last one to leave the track every day, puts in extra work on the weekends and is always working to get better."
"I'm really pushed by my failures and I'm always looking for something to improve on," says Massey. "I'll look at my hurdle form and I'll be like, 'I want to see something in this that I can fix and is concrete so I can make immediate changes.'"
And while she has nothing but praise for her coaches in Menno, Massey says she has been intentional about looking for guidance outside of her immediate world, as well.
"I haven't been afraid to ask other people in other towns for help; I didn't just stay in Menno," she says. "I went and found people who could help me and I asked for tips and constructive criticism."
The specific work she has put in this season has been almost a full year in the making.
"She's been preparing for this track season since the state meet got over last year and it really shows," says Liebl, who has in the past month watched Massey catapult into one of Class B's best and somebody who deserves everything she gets.
"Great kid, great work ethic, great teammate," he says. "Everything a coach could wish for."
Massey is hoping all that work pays off when she takes the track at Howard Wood Field in Sioux Falls for the 2023 State Track and Field Meet — almost assuredly in four events — May 25-27.
"I would love a top-three spot on the podium," she says. "I want it badly."
For the kids
As for her one big thing the week before she takes the state stage — the May 21 Menno Youth Track Meet — she is pretty excited about that, too.
"It's going to be a lot of fun," says Massey, who has gotten a lot of help from Kari Zeeb, the distance track coach in Menno, in planning for the event. "Her kids go to track meets in the summer and we're just excited to inspire the kids in our community."
And the feedback she has gotten thus far has been overwhelmingly positive.
"I've had a lot of kids come up and talk to me about it and tell me that they're excited," Massey says. "I even know of a group of kids that has been practicing."
Massey and Zeeb will be joined by other track coaches, student-athletes from Menno and family members at the May 21 fundraiser that will truly be a collective effort.
"It's going to be a whole group effort — a whole community effort," Massey says. "And we're ready for it."