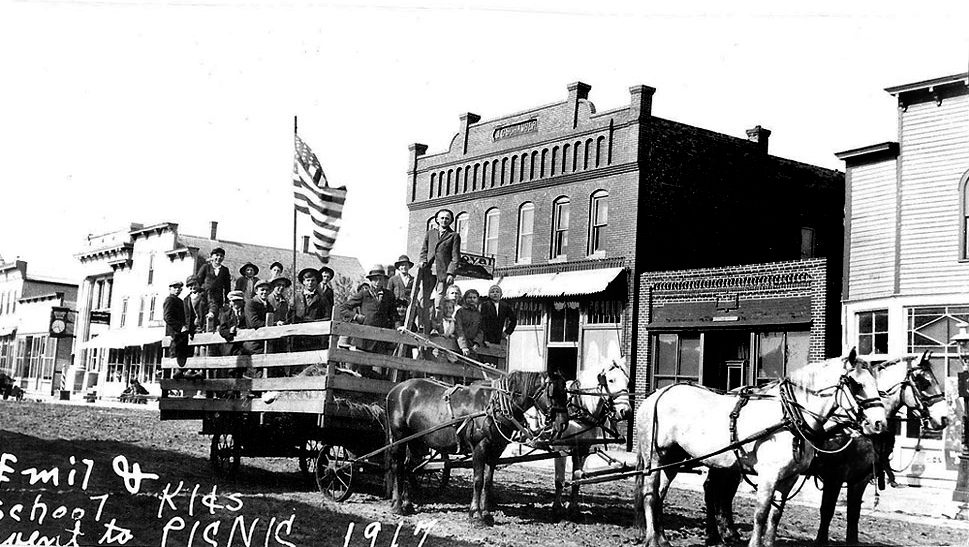 photo day
PHOTO OF THE DAY: FROM THE MUSEUM …
The Courier is happy to share as its Photo of the Day the picture that is featured in Heritage Hall Museum & Archives' weekly feature, "Monday on Main." Here's the text that accompanies this classic click:
The end of the school year typically includes something fun, a way to cap the school year and that was certainly the case in 1917 as our "Main on Monday" photo reveals. 
This photo from our archives shows students heading down Main Street on their way to a picnic. We'd welcome any information about the students in this photo. 
Landmarks include the Schamber Store directly behind the hayrack, the former Merchants State Bank building behind the team. It also includes the relatively new Merchants State Bank (built in 1913) in the background; note the familiar clock that was installed in 1915 and has been part of the bank's identity for 108 years.
Incidentally, you'll find a portion of the tellers' station from the 1913 bank in the Kauffman Wing at HHM&A. We invite you to visit and see it and thousands of other artifacts from our community's rich history. 
We're open from 9 to 4 weekdays and 1 to 4 weekends. We're also open for groups at other times by appointment; call 605-925-7545.