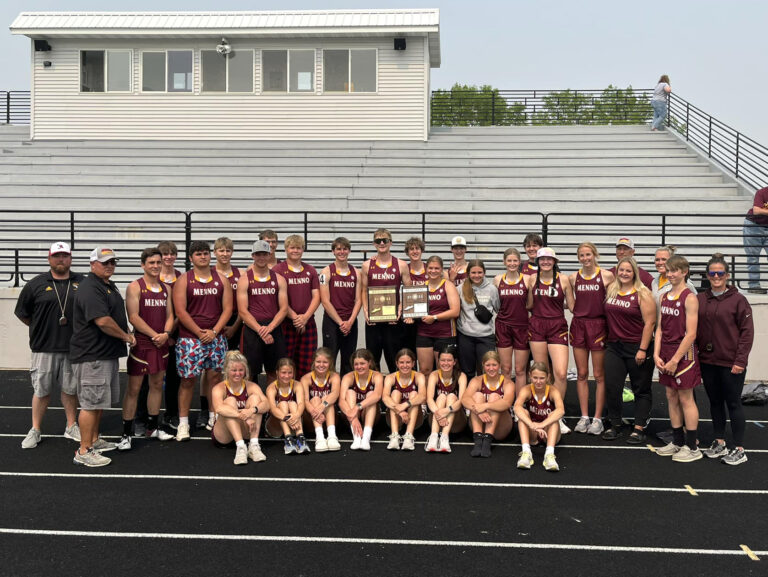 news, sports
MENNO BOYS OWN FINAL REGION MEET
The final region championship belongs to the Menno High School boys.
Competing at the last Region 4B Track and Field Meet in Freeman on Thursday, the Wolves put up 159 points to well exceed Viborg-Hurley's 127 and run away with the title. This was the final region competition because the South Dakota High School Activities Association has decided to do away with the traditional "last chance before state" meet because of the top-24 performance list structure used to set the state meet field. Prior to 2021, student-athletes could qualify for state with a first- or second-place finish in the region.
The Menno boys used five firsts and five seconds to win the title:
• Senior Brayden Sattler won the 400 in 52.85;
• Senior Kadeyn Ulmer won the 800 in 2:04.32;
• Senior Owen Eitemiller won the pole vault with a height of 12-6;
• Senior Cody Munkvold won the triple jump with a leap of 37-6 ½;
• The 4×800 team of Sattler, Isaac Fergen, Izayah Ulmer and Kadeyn Ulmer won in 9:19.49;
• Sophomore Bryce Sattler was second in the 800 in 2:05.27;
• Freshman Izayah Ulmer was second in the 1600 in 4:52.30;
• Eitemiller was second in the 110 hurdles in 17.48;
• Brayden Sattler was in the high jump with a height of 5-8;
• Sophomore Trent Guthmiller was second in the triple jump with a distance 37-4.
MENNO GIRLS 2ND
The Menno girls track and field team also had an outstanding day at Thursday's Region 4B, finishing second in the nine-team field. The Wolves tallied 116 points behind only Centerville's 156 but ahead of Freeman Public's 94.
The girls were paced by junior Ashton Massey, who won the 100 hurdles, 300 hurdles, triple and anchored the 4×800 relay to victory — a team that also includes Ellyana Ulmer, Ervin Schrock and Zoe Schaeffer.
Other top finishes for the Wolves included:
• Schaeffer, who won the 3200 in 13:40.57;
• Senior Alana Fergen, who won the discus with a throw of 115-5 ½;
• Ulmer, who finished second in the 1600 in 5:49.73.
BOYS TEAM TOTALS
Menno 159, Viborg-Hurley 127, Freeman Academy/Marion 91, Centerville 83, Irene-Wakonda 75, Alcester-Hudson 68, Freeman 65, Gayville-Volin 41, Scotland 16
GIRLS TEAM TOTALS
Centerville 156, Menno 116, Freeman 94, Gayville-Volin 77, Irene-Wakonda 77, Alcester-Hudson 76, Freeman Academy/Marion 44, Scotland 41, Viborg-Hurley 32