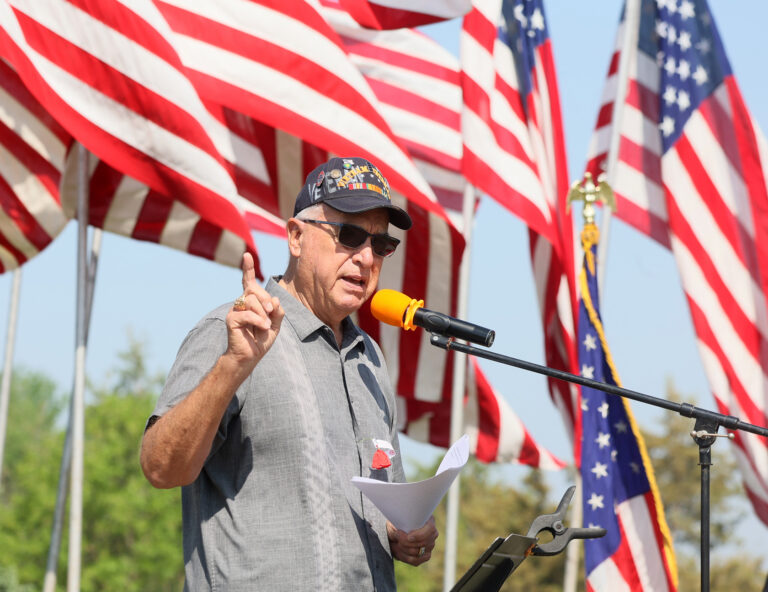 news
MEMORIAL DAY: MENNO COMMUNITY PAYS TRIBUTE TO THE FALLEN
JEREMY WALTNER  – PUBLISHER
With 21 American flags fluttering in the breeze — each one once covering the casket of a fallen veteran — Shirlene Simonsen read the Honor Roll naming 367 deceased comrades from the greater Menno area.
Twelve Mettlers.
Nine Auchs, eight Aisenbreys, seven Quasts, six Guthmillers, five Schaeffers, four Haars, three Lehrs, two Langelands and one Seuss, with a host of other surnames and first names acknowledged through the spoken word.
The reading of the Honor Roll, which is a tradition at Menno's Memorial Day service, once again held at the city's cemetery Monday morning, May 29, as an intentional tribute and important gesture on a day set aside to pay tribute to the dead.
"I knew a lot of those folks — I've been here 40 years — and it's important that they be remembered," said Robert Rennolet, commander of the Rames-Bender Post 152 that sponsors the annual observance along with the Sons of the American Legion and American Legion Auxiliary. "They've given everything."
Rennolet, who offered a prayer and the opening and closing remarks at Monday's service, notes that it takes a while to get through the list of 367, "but there is great importance in honoring our veterans in this way."
And Simonsen spoke to that in her introductory remarks before reading the names.
"May we, who live now, pay tribute to our valiant dead, as we reaffirm to them our promise that our nation's flag shall always be at its peak and that the Roll of the Honor, which contains their names, shall never be forgotten."
This year's outdoor Memorial Day program survived an early-morning shower and took place on a comfortable spring morning at the city cemetery, where many of the grave markers were decorated with flowers, flags and crosses. Special music was provided by Tom Ulmer and Dale Weiss and the Menno High School band under the direction of Steven Bray.
And Don Hosek, who served in the Army National Guard for 38 years and is the commander for the Legion and VFW in Wagner, focused on the value of the Pledge of Allegiance in his brief address.
Hosek reflected on something he heard when he was a boy from entertainer Red Skelton, who reminded schools and communities to never forget why the Pledge of Allegiance is recited, and then spoke of his time on the Wagner School Board, Wagner City Council and his four terms as mayor of Wagner.
"My finance officer asked me one day what's going to happen if we ever hold a meeting and somebody doesn't want to stand for the flag," he said. "I said they will be escorted out by our chief of police (Menno native Tim Simonsen). We never had to exercise that move."
Hosek said keeping the Pledge of Allegiance alive in schools was something that his dad and brother, who are both deceased, focused on through their work with the American Legion in Platte.
"Here's how the Pledge of Allegiance was explained," he said:
"I — me — an individual;
"Pledge (and) dedicate all of my worldly goods to give without self-pity;
"Allegiance — my love and my devotion;
"To the flag — our standard, Old Glory, a symbol of freedom wherever she waves. There is respect because your loyalty has given her a dignity that shouts freedom;
"United — that means we have all come together;
"States — individual communities that have united into 48 great states with pride and dignity and purpose all divided by imaginary boundaries yet united to a common purpose and that's love of country.
"And to the republic — a state in which sovereign power is invested in representatives chosen by the people to govern, and government is of the people and from the people to the leaders, not from the leaders to the people.
"One nation — meaning so blessed by God;
"Indivisible — incapable of being divided;
"With liberty — which is freedom. The right of power to live one's own life without threat or fear of some sort of retaliation;
"And justice — the principle or quality of dealing fairly with others;
"For all — which means this is as much your country as it is mine."
Hosek noted that since he first heard that as a young boy, two states — Alaska and Hawaii — were added to the union.
"And two words have been added to the Pledge of Allegiance," he noted. "Under God."
"Wouldn't it be a pity," Hosek concluded, "if somebody said this was a prayer and wanted to take it from our school systems and our communities."
Fittingly, Hosek then asked those in attendance to stand and recite the Pledge of Allegiance.
Monday's Memorial Day service was also marked by an airplane flyover at its onset and, afterward, a lunch at the school hosted by the Menno High School band as a fundraiser.
Autumn Rouse offers one of four closing prayers, each shared in a different language, at the conclusion of Saturday's graduation at Freeman Academy. Also pictured are Albert Kalonji, left, and Leo Wang.