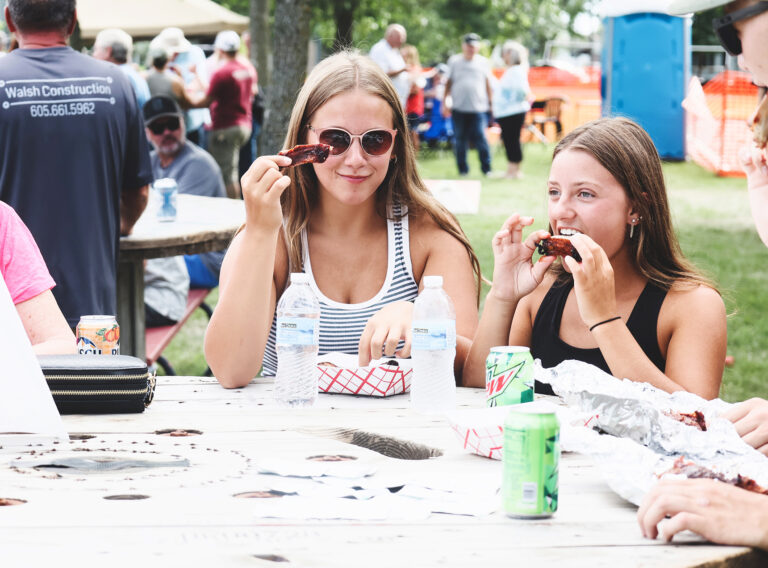 news
AND THE LIVIN'S EASY
JEREMY WALTNER – PUBLISHER
Von Vangenderen, a radio personality with WNAX and 104.1 The Wolf, has been to the Freeman Volunteer Fire Department Firehouse Rib Cook-Off before, so he knew what he was getting into when he stepped foot onto the grounds of the Swimming Pool Park Saturday afternoon to be a judge for the rib competition.
He still had his socks knocked off.
"When you walk through the gate, it's just got a great feel," said the Stickney native. "You walk in and your spirit just lights up and you know you're going to have a good time. You know you're going to have fun meeting new people, and of course you know you're going to have something great to eat."
The radio host was one of hundreds who experienced all of that and more at the 10th annual fundraiser for the local fire department that also serves as a coming-together of firefighters from across the region,
It's also developed a reputation as one of the Freeman community's friendliest and easiest-going summertime events built on the backs of the dozens of firefighters and their departments that attend year in and year out.
"All of these fire departments, from Bridgewater, from Menno, from Hurley, from Viborg — all of our surrounding towns — we come together and help each other, whether it's a fire or a fundraiser," said Chad Soulek, the brainchild of Freeman's rib cook-off. "It's huge."
In fact, he said, several years ago he and his wife, Heather, attended a similar cook-off in Blunt, when the Blunt Volunteer Fire Department was called to a 4,000-acre grass fire just as the fundraiser was getting going, and they didn't get back until 10 p.m.
So what happened?
All the other fire departments that were there stepped up to run the event for them, and it was a huge success.
"That's what would happen here," Soulek said. "If that happened, I guarantee you somebody from each of those departments would come over and keep this thing going."
BIGGEST YET
This year's event, held Aug. 12, featured an expanded layout that comfortably accommodated the largest participation from area departments yet — 28. In fact, Soulek said he had 32 signed up but several couldn't come last minute. Still, it was an impressive spread.
"They've worked over the years to perfect it, and every year it's just a little bit better than the year before," said Vangenderen. "Kudos to all the folks on the fire department here in Freeman, and it's great for them to welcome all the other fire departments that are here coming from a wide area. It's fun to see that because we know there's camaraderie among fire departments. There's a brotherhood, and this really perpetuates that."
Saturday's rib cook-off got underway with an early-afternoon bean bag tournament that featured 26 two-person teams, and as the afternoon carried on, more and more started gathering at the park. Vangenderen and 19 other judges began tasting ribs and brisket at 4 p.m., and public serving began at 5 p.m. All the while, recorded music played by Mitchell Kleinsasser from near the makeshift stage set up on the west border of the fenced-off area filled the perfect summer air and men, women and children of all ages and walks of life mingled about.
"It doesn't get much better," said Vangenderen, "and here's the thing to remember: We're politically polarized, but that guy who's sitting next to you eating a rack of ribs, who may think or believe differently than you, when you're at that table together, you either don't know or don't care.
"Life is not polarizing when you think of another person as your neighbor — when you think of what you have in common. When you want to have fun; when you enjoy small-town festivals and good food. Honestly, that's a lesson that the world should learn."
NOTES FROM SATURDAY
The food didn't sell out quite as quickly as it has in years past (in 2021 it was all gone in 45 minutes), but that's likely because organizers have increased the quantities. Still, it was another sellout. "When you can get rid of 700 racks of ribs and 450 lbs. of brisket in two hours," said Soulek, "that's pretty impressive."
For the second year in a row Chad Miller of Yankton won the rib competition; the team from Bridgewater won for brisket; and sisters Victoria Blau and Jen McConniel from Marion — wives of firefighters Pat and Zach — won the sideline appetizer competition for their Sweet Hawaiian Pork Sliders topped with pineapple slaw and paired with seasoned smoked pickles wrapped in bacon.
Following the announcement of the winners, Doug Weber with the Bridgewater Fire Department took the stage and the microphone for a role call of Freeman's firefighters and announced each one and their number of years of service.
And following that, Soulek's son Ty presented his dad with a custom-made wooden cutting board presented on the behalf of the Freeman Volunteer Fire Department commemorating the 10th anniversary of the event and the effort Chad has put forth. Afterward, Soulek said he did all he could to fight back tears and didn't have words when asked what it meant to him.
Finally, he said this.
"Freeman's been good to Chad Soulek. And hopefully Chad Soulek's been good to Freeman."
Nobody would argue with either.