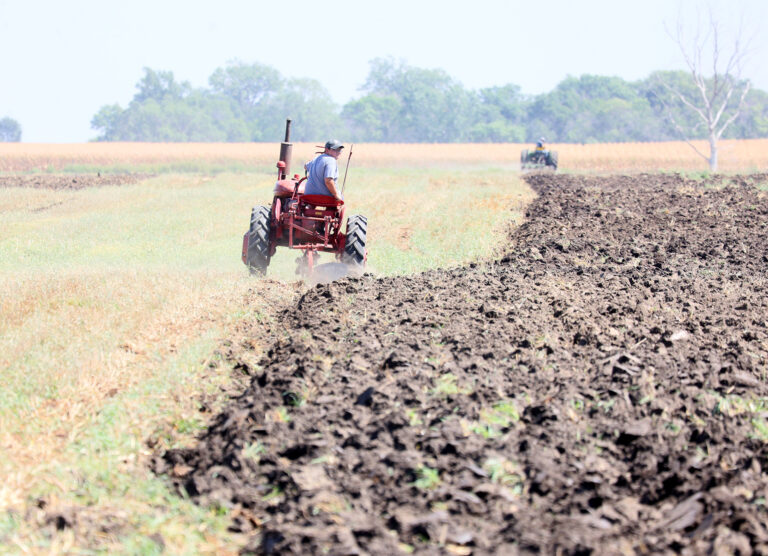 news
PLOW DAY: A LABOR OF LOVE
JEREMY WALTNER – PUBLISHER
As a full-time mechanic at his mom and dad's business, JH Diesel and Ag Repair LLC, Collin Helma spends plenty of time working on today's machinery built with comfort and efficiencies in mind.
On Labor Day afternoon, however, he was doing something much different: Hooking up a Case 3-bottom plow to his 1947 Farmall M before setting out to turn the soil on a field 3 miles north of Freeman as part of the traditional old-fashioned plowing bee.
And it was a joy.
"The old stuff is 10 times simpler to work with than the new," said Helma, who returned to work at his family's business in May after graduating from Lake Area Tech on the Build Dakota Scholarship from JH Diesel. "And, honestly, more fun."
Helma wasn't alone in the dirty effort required to get the equipment working properly — or his enthusiasm for the throwback plow day.
For several afternoon hours on Monday, Sept. 4, nearly two dozen men from across the area were taking part in the plow day designed to pay homage to a time long gone by, and to keep that old equipment in shape, even if it's the only time of the year it runs.
Lance Langle, who grew up on a farm near Clayton and is today a resident of Freeman, certainly appreciated what was taking place on about 30 acres of earth most recently used by Steve Friesen for oats.
"I have an appreciation for today's farmers, of course, but also an understanding that we didn't get here overnight," said Langle, who was watching the action with his 4-year-old son, Maverick, on what was a sunny, hot and windy South Dakota afternoon. "People spent 12-, 14-hour days on this type of tractor.
"That family farm operation — that was the Golden Era."
He also suggested the old way of farming lent itself to a strong appreciation for the bigger picture.
"You just understood that, if you didn't farm, you didn't eat — or somebody didn't eat," Langle continued. "There was heart and soul in it. Now we have people who are employees at larger farming operations where there's air conditioning and GPS, and they plain don't have to put in the effort made up of blood, sweat and tears."
Monday's plowing bee got rolling around 1 p.m. on Friesen's field located one mile west and a half-mile south of the Highway 81/44 junction. Some were there to work, others to watch, and there was no formality to the event. The only guidance came from the soil before them that was either turned or unturned. Some made multiple passes at a time; others did not.
"There are a lot of 1950s tractors here, and what we're seeing is some of these guys are adjusting after making a round, when they're like, 'Oh shoot, I have to do something different.'" Langle said. "You don't have a computer to tell you what you're doing. You try it and it either works or it doesn't."
As for bringing his son, Maverick to the event, he said that was an easy call.
"We've got to let the next generations know what the past generations did," he said.
One of the "next generation" farmers there on Monday was 11-year-old Joseph Stirling, who was there with his dad, Jared, mom Marta and sister Mercedes. And while the rest of his family watched, Joseph took to the field with his 1946 Farmall A with a single bottom plow.
"He really likes this," said Jared, whose family lives 10 miles south of Freeman and was introduced to the plowing bee by friend Maurice Waltner years ago. "(Joseph's) grandfather got to collecting antique tractors, and when he was little, he gave us one of his plows to use, and ever since then he's been nuts about tractors."
The Stirlings also enjoy visiting a similar event at Humboldt.
"He just wants to do everything farming" Jared said, "although we don't farm ourselves."
As for Friesen, he was there for part of the afternoon observing the old way and was reminded of when he was 13 years old growing up Nebraska and had the opportunity to plow using equipment similar to what was there on Monday.
"It brings back memories," he said. "It's neat to see."
Roy Pfeiffer, an organizer of the plowing bee, drives his Oliver tractor through the field during Monday's exhibition.