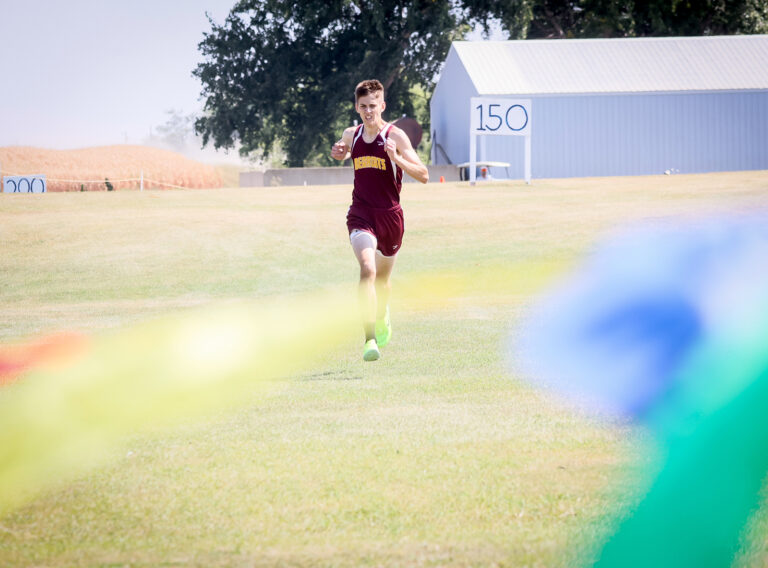 news, photo day
PHOTO OF THE DAY: NOT EVEN CLOSE
Senior Tavin Schroeder (pictured) blew away the field and junior Finley McConniel cross the line well ahead of the third-place finisher as the Freeman Academy/Marion boys cleaned up at the Flyer Cross-Country Invitational at Valley View Golf Course Wednesday afternoon, Sept. 13.
Schroeder, who was second at state last fall, completed the 5,000-meter course in 16:27.56.
McConniel, who was eighth at state last fall, finished in 17:11.74.
The next runner to cross was McCrossan's Ethan Hartung, who clocked an 18:23.53.
The Bearcats' had two other runners finish in the front half of the 44-runner field:
Hayden Schmidt was 16th in 19:35.89;
Jayson Allison was 18th in 19:48.75.
FA/Marion won with 12 team points.
Elk Point-Jefferson was third with 30.
The Bearcats were represented by one runner in the girls races: sophomore Estelle Waltner, who finished fifth in the 31-runner varsity field with a time of 21:30.01.
Freeman Public saw some nice races, as well.
Braydan Mangel and Lane McCune, both eighth graders, finished fifth and seventh in the varsity boys race with clockings of 18:42.97 and 18:51.72. The Flyers were without a third runner and therefore did not qualify in the team standings.
And Menno had two medalists in the varsity division.
Senior Ashton Massey was fourth for the girls in 21:30.01 while sophomore Erick Buechler placed 19th in 19:49.54.
Wednesday's Flyer Invitational also included junior varsity and middle school races.
For complete results, click here.