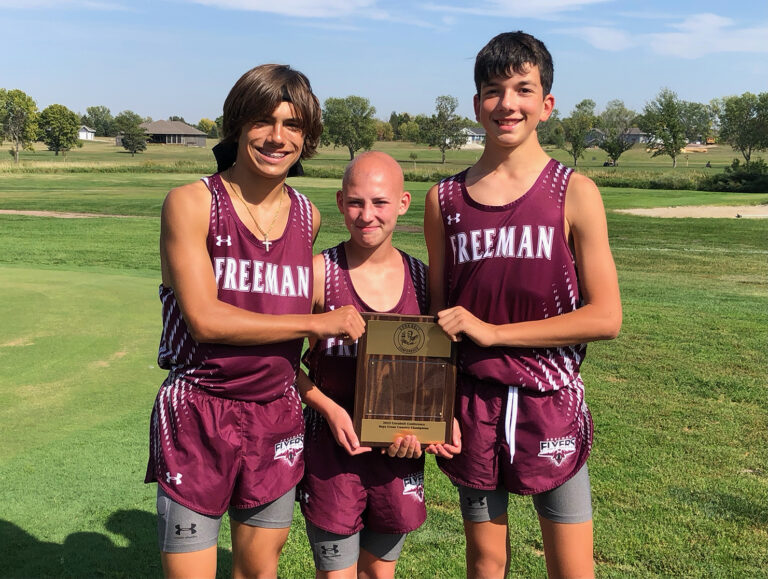 news, sports
FREEMAN BOYS TAKE CORNBELT XC TITLE; MASSEY WINS, TOO
The Freeman Public varsity boys won the Cornbelt Conference team title for the first time since 2010 and Menno senior Ashton Massey ran to a first-place finish at the 2023 Cornbelt Conference Cross-Country Meet hosted by Howard on Wednesday, Sept. 20.
The Flyers slipped past Canistota in the team standings 16 to 18 points (like golf, the lowest score wins) thanks to a second- and fourth-place finish in the 20-runner field by eighth graders Brayden Mangel and Lane McCune.
The push came from Josh Oleson, a seventh-grader who finished 17th running in his first-ever varsity meet.
Mangel finished in 18:01.48, McCune clocked an 18:30.12 while Oleson crossed the 5,000-meter course in 22:00.20.
Freeman Public also saw a strong showing from Olivia Schultz, who also was running in her first varsity meet at Howard on Wednesday. The seventh-grader finished seventh in the 21-runner field, crossing the 5,000-meter course in 23:39.77.
Wolves standout Massey, meanwhile, won the varsity girls division with a time of 21:37.23, which was more than 20 seconds ahead of runner-up Eliza Oltmanns of Hanson — a team that took the title with runners finishing in the second-, third-, fourth- and sixth-place spots.
Howard finished second in the varsity team standings with 21 points and Menno was third with 24 thanks to a push from Ashlynn Fergen, who finished 19th in 29:00.
Also from Freeman Public …
The Flyers' junior high boys won the team title for the fourth year in a row thanks to the strong showing from sixth graders Korbin Jensen and Collin Randall, who finished second and third in the 19-runner field.
Jensen finished the 3,000-meter course in 12:07.87 while Randall posted a time of 12:33.62.
Freeman's push came from Liam Loofbourrow, who placed 11th in 15:41.92; and Pete Rembold was 13th with a time of 16:03.35. Both are seventh graders.
Like in the varsity division, Freeman edged Canistota in the junior high team standings by a slim margin: The Flyers clipped the Hawks 13 to 15.
And in the junior varsity boys field of 10 runners, freshman Owen Andersen was fourth and sophomore Gideon Rembold was eighth, with times of 13:37.35 and 14:43.95.
Menno
Erick Buechler earned a top-10 spot for Menno in the varsity division while the Wolves dominated the girls' junior high division at last week's Cornbelt Conference meet at Howard.
Buechler finished 10th in 20:21.40 while Ivana Schaeffer, Savanah Wielenga, Briley Cross, Leah Crick and Emma Rempfer finished 3-5-6-7-8 in the 3,000-meter, nine-runner field. Menno was the only school to field a full team (at least three runners) in the competition. The times are as follows:
Schaeffer: 15:05.24

Wielenga: 15:42.21

Cross: 16:51.41

Crick: 17:34.69

Rempfer: 17:34.91
In the junior high boys division, Egan Mettler was sixth and Daniel Schaeffer was seventh in the 20-runner race. Mettler clocked a 14:00.47 while Schaeffer finished in 14:17.96.
And in the JV race of nine runners, Menno's Hannah Masterson, Emmalyn Heckenlaible and Bailey Neuharth finished 4-7-8 in 15:21.75, 19:09.90 and 21:22.67.