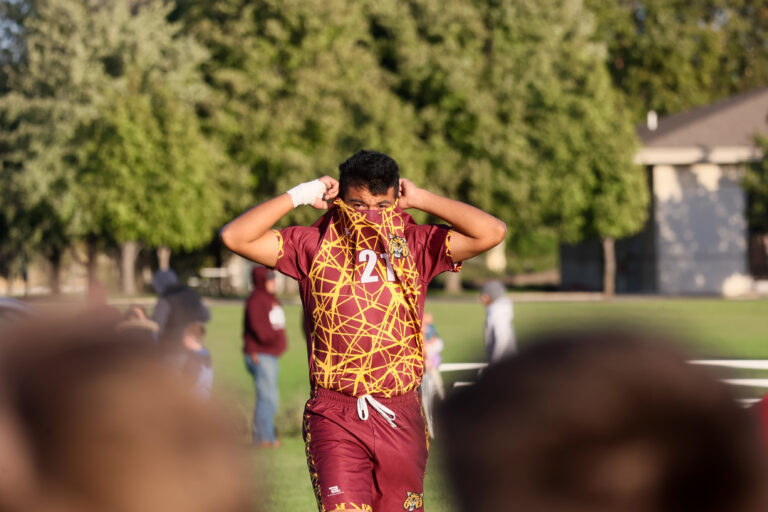 news
October 5, 2023
Bobcats see season end in first round of playoffs
UPDATED: SEASON OVER FOR BOBCATS; DENT STEPPING DOWN
JEREMY WALTNER – PUBLISHER
Scott Dent knelt in front of his players who had taken a seat on the bench and told them all the things a head coach tells a team following a tough loss — that they played hard and that he was proud of them and that was a strong team they just played and that it was a season they should feel good about.
The other team — Belle Fourche — had a gathering of their own just down the line, and as Dent was offering words of consolation, the Broncs let out a collective and celebratory yell, further stinging the watery eyes of the crestfallen Bobcats.
Dramatic?
Perhaps.
But make no bones about it: Freeman Academy's 1-0 home loss to the Broncs in the first round of the Class A playoffs last week Thursday, Oct. 5, was tough.
"Soccer is an emotional game," Dent told The Courier after than final huddle. "You're running six miles and getting kicked, you're getting pushed around, and I don't think your emotions catch up to you until the game's over."
What was particularly tough for the Bobcats last week was that:
It was a match they felt they could win, and;
They were right there.
Freeman Academy entered the postseason as the No. 4 team and with an 8-2-2 record while Belle Fourche came in No. 5 at 6-6-1. Whereas the upper level teams in Class A — Sioux Falls Christian, Vermillion and Tea Area — had a clear upper hand, the Bobcats liked their chances against any of those teams that fell somewhere in the middle of really good and really beatable, including the Broncs.
It was no surprise, then, that Freeman Academy and Belle Fourche — which had not played each other during the regular season — matched up well. While the Broncs demonstrated good ball control and appeared to have the advantage when it came to time of possession, the Bobcats found themselves in the game in the minutes following last Thursday's 4:30 p.m. kickoff.
"We were where we wanted to be," said Dent, the third-year head coach who reminded his players to be proud of what they had done. "The fact that we have a chance to host this playoff game is something special, and I said, 'go out and have fun.'"
The Bobcats had what was a crisp early-fall wind at their back in the opening 40 minutes, which meant the Broncs were at a disadvantage in that first half. But with 29 minutes to play and their penalty box bottled up with players, Belle Fourche managed to slip one through FA's defense in what appeared to be a fluke play — that "three-second mistake" Dent talked about following his team's 2-1 win over James Valley Christian in what was another close game that closed out the regular season.
"The wind was a huge factor for both teams," said Lucas Trimbel, who has been with the Belle Fourche soccer program for five years and is in his third year as head coach. "Our defense did an outstanding job of keeping the ball out — because they just kept coming back at us — and we got fortunate with our goal."
"They are a good team; their goalie might have been the best we've seen all year," said Dent. Everything they did was good soccer and they made great runs. Coach had them ready; it was a good game. A lot of fun."
It was a good game, but for Freeman Academy and its loyal fanbase, it would have been better had a couple of things gone their way in what became an urgent second half.
The first came with 25 minutes left in the game when senior midfielder Liam Ortman got free with the ball in front of Belle Fourche's defense and was alone in the penalty box with only the Broncs sophomore goalie, Joshua Brill, to beat. That's when a Belle Fourche defender came at Ortman on his left side, made contact, and knocked the would-be striker to the ground.
The fact that a foul wasn't called drew a vocal rebuke from Dent, who after the match said it was one of the worst no calls he had seen in soccer.
"Liam was through," said the coach. "It was going to be him and the goalie. Their defender came in hard, lowered his shoulder, never went for the ball, and laid Liam out.
"In my eyes it's a penalty kick and a red card (ejection) and we're up a man in the last 25 minutes."
There is, of course, no guarantee that FA would have taken advantage.
"Who knows if we make that penalty kick — that goalie was saving everything," said Dent. "You would have just loved to have the chance."
The second "would have could have" came late in the second half as the Bobcats battled hard for every chance they could get against a team that was controlling the field. It happened when the team's best striker and leading scorer, eighth grader Lesther Rocha, found himself ahead of the defensive line and with a clear look at the goal.
"It was one of the only times we got through without a hand pulling us back, and he had a couple of steps," said Dent. "And Lesther all season has made that shot, and he put it exactly where he's coached to put it — bottom left corner. And the keeper did everything technically right and put a foot on it. It was a great save."
Indeed, it was Freeman Academy's best chance to score all game, came at a critical time and summed up what was a heartbreaking loss for a team that wanted to play another game — even if that game was a matchup with defending champion and No. 1 Sioux Falls Christian on Saturday.
"We had our chances," Dent said. "We put the ball where we wanted to, but shots just didn't go, and their keeper made an amazing save that I thought was going to tie the game late."
After the game, as both teams gathered in the Sterling Hall Link for a light supper, Trimble said he appreciated the competitive nature of the game and the fan in him couldn't help but come out.
"Because it was so windy (and my players couldn't hear me), I didn't have to do a whole lot of yelling, so I sat back and enjoyed it," said the Broncs coach, who on Saturday watched his team fall 9-0 to Sioux Falls Christian, which will face Tea Area for the Class A state championship this Saturday. "It's what you live for — these high-pressure games. When you win it's great. When you don't you learn from it."
For the Bobcats, it maybe isn't so much what they learned, but of what they were reminded.
"The kids love the game," said Dent, who believes that's why the emotion in the moments following the loss was so raw. "When you're in a 1-0 game, you don't know it's your last game until the whistle blows, and that's when it hits you. For our seniors, it's the end, and a lot of our younger players wanted it for the older guys."
Freeman Academy will lose to graduation four players who started straight down the middle of the field — goalie Blake Rumelhart, center defender Jorgen Baer, center midfielder Liam Ortman and center forward Yonathan Lopez.
"That's tough," said Dent, "but we've got some incredible talent coming up."
And nothing will take away from the vast improvement the Bobcats have seen since Dent arrived as head coach three years ago.
"It's been a fast climb," he said. "We got good way faster than any of us thought we would, and that's been fun. Just being around these kids — they like each other. They carry each other."
And the Bobcats should be right in the thick of it again next season.
But Dent won't be part of it.
In his final remarks to the team on Sunday evening, Oct. 8, the coach announced he was stepping down to give more time to his family and his work as pastor at First Church of God in Marion.
"I always strive to be the best role model I can be," Dent said. "And it is because of that I'm adding this last part … because family should always be a priority over anything else you do, this will be my last year coaching the Bobcats. That makes me emotional because I really do love coaching all of you. But to be the role model I want for you to see, I have to model what it looks like to be a great dad and husband.
"Thank you for allowing me to be your coach the last three years," he continued. "You will always be my favorite soccer team around."