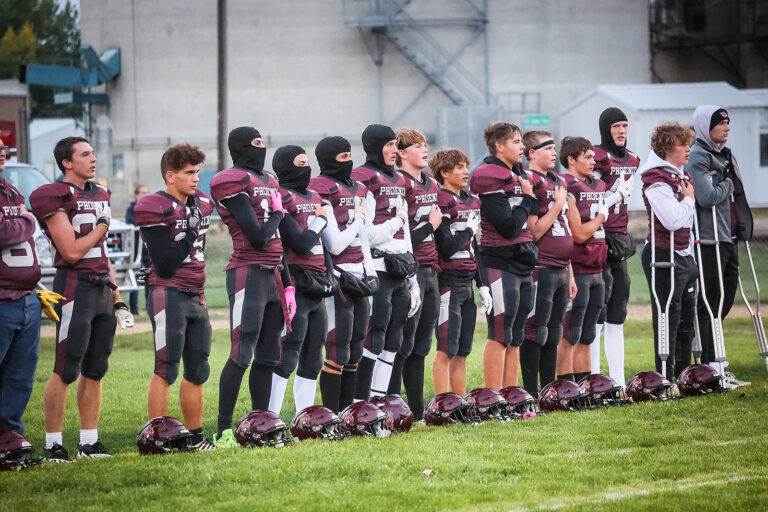 news
October 7, 2023
PHOTO OF THE DAY: STORY OF THE NIGHT
Players on the Freeman/Marion/Freeman Academy football team stand for the national anthem prior to their game against Corsica-Stickney Friday night in Marion. The game was a battle, with the Jaguars — No. 5 in Class B — taking an 8-0 lead in the first quarter and holding a 14-6 lead late. F/M/FA drew within two with 2:50 to play in the game, but a two-point conversion pass from Karter Weber to Evan Scharberg that would have tied the game was incomplete. Corsica-Stickney improved to 5-2 while the Phoenix dropped to 5-2.
F/M/FA had three touchdowns called back because of penalties and never scored on each of those possessions.
The Oct. 6 game was Marion's homecoming and this photo by Oliver Waltner is part of the story of the night — that it was the coldest night of the season and that the local football team is dealing with injuries. Pictured on the right are Riley Tschetter, who is recovering from a season-ending torn ACL; and Tate Sorensen, who suffered a severe high ankle sprain against Gayville-Volin on Sept. 29 but is expected to be back for the first round of the playoffs on Oct. 19.