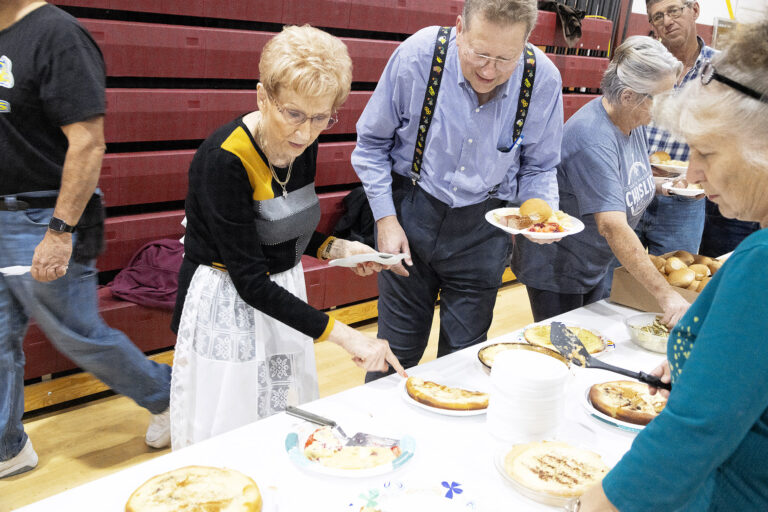 news
OKTOBERFEST STIRS APPRECIATION FOR GERMAN-RUSSIAN HERITAGE
Dan Flyger isn't like many around here in that he doesn't have German blood in him.
Not a drop.
Rather, the rural Freeman resident traces his roots back to Denmark and his Danish ancestors who were among the first to settle west of Swan Lake in the early 1870s.
Flyger's only association with the German lineage is through his wife, Veda (King), whose great-grandfather and his brothers migrated to America from southern Russia under the surname König (which they changed to King during World War 1).
In the four decades since Veda and Dan married — they will celebrate 40 years on Oct. 28 — Flyger has embraced his wife's heritage as if it was his own, especially appreciating its strong agricultural heritage and work ethic that is evident across Hutchinson County.
He has also taken to heart the mission of the SoDak Stamm Germans from Russia Heritage Society to both promote and preserve that history — an effort that was on full display in Menno last Saturday, Oct. 14 as Oktoberfest unfolded inside a spirited city-school auditorium.
There, the smell of sausage filled the air and signs marked a special occasion — the 150th anniversary of the first Germans from Russia immigrants to arrive in Dakota Territory in 1873.
About 225 guests feasted on a hearty meal that featured sausage, hot German potato salad and kuchen, and later in the evening, the guests enjoyed music from the Leo Lonny Orchestra of Brainard, Neb., who offered the attentive audience a steady dose of polka.
And it provided Flyger a platform to share some of the history that means so much to him, which he did through pamphlets that were distributed detailing the cross-continent journey of his wife's ancestors and others like them.
"Who are the Germans from Russia? Sometimes the Germans from Russia can't even tell you who they are," he said in his opening remarks. "I guess that's because sometimes we don't know if we're a coming or going people."
Flyger noted it's been 150 years since the first Germans from Russia settled between Menno and Lesterville, and over the course of the next 20 years, thousands more would come. What a blessing that was, he said in his invocation that opened the evening.
"We thank you that, no matter what our ethnic background is, that you chose to lead our forefathers to these shores," Flyger prayed. "We are so grateful that we are Americans."
Food and fellowship
While Oktoberfest has a long history in the Menno community — Donna Zeeb, a member of the SoDak Stamm Heritage Society, said she remembers when food was prepared at homes and in the Menno Legion Hall and taken to the auditorium because the kitchen there wasn't large enough at the time — more recent years have called into question its sustainability.
The festival was canceled in 2020 because of Covid-19, and then called off at the last minute in 2021 because of pandemic-related issues. And while it returned in 2022, the crowd was thin as half the tables and chairs set up in the auditorium sat empty.
But that was not the case last week, much to the satisfaction of organizers.
"I'm totally delighted with the crowd," said Vi Raney, who along with Zeeb carried out the primary organizational tasks associated with Oktoberfest. "Totally delighted. When the workers sit down to eat, I don't think there will even be enough chairs."
Raney also delighted in talking about the menu items, which features German sausage from Kaylor Locker and German potato salad — which can be served cold, warm or hot, but is typically served hot at Oktoberfest — made by 10 women the day before. All 110 lbs. of it.
"We had such fun," she said.
The menu also includes a slightly sweetened sauerkraut, the South Dakota official state dessert, kuchen, and fruit salad.
"But we forgot to put out the pickled watermelon," Raney exclaimed. "Oh dear me so, I don't know what we're going to do with it."
Guests still had their chance to taste the unique dish — which Flyger says "is one of those things you absolutely love or you absolutely hate, and I love it" — as volunteers weaved their way through the tables and chairs offering it as an after thought. Zeeb was one of those women, and when asked how much work goes into Oktoberfest, she just laughed.
"How do you define work when it comes to making a big meal?" she said. "We were very fortunate yesterday afternoon because we had quite a few ladies who came and helped. We made the potato salad and the fruit salad right here, and the school cook here has been very nice to us. They have a big oven where they bake the potatoes for us, which is really helpful. We have such a nice facility here which makes it way nicer."
Zeeb said, in its simplest form, Oktobefest is important to the community because it provides a way for people to get together and socialize.
"I grew up with it — my parents were involved in it — so it's always been a nice gathering," she said. "But in this day and age it's different. It's harder to get people to come and be willing to help."
And Zeeb said there was some concern after the canceled years of 2020 and 2021 that it might be gone for good.
"Once you break something it seems like it's hard to bring it back," she said. "So we are very pleased."
Deep appreciation
When asked the obvious question of "why is Oketoberfest important," Flyger gives the obvious answer:
"I always think it's important that everyone remember their heritage, you know?"
He notes the Germans from Russia have a unique history and Oktoberfest proves "a marvelous opportunity to get together and have a good time."
But Flyger goes on to talk about something that isn't as obvious as a simple appreciation for the heritage, and that's a deep appreciation for the agricultural skills the Germans from Russia brought to the land — wherever they were.
"My personal thought on this, not being German-Russian myself, is something that people who are Germans from Russia don't give a second thought about, and that's the inroads they made in terms of agriculture," he said. "Some of the early settlers even here in Hutchinson County were not Germans from Russia; they were Yankees from back East. And they're not still here. The Germans from Russia stayed, because they knew how to farm the land."
One of those farming practices that was of particular importance, he said, was growing turkey red wheat.
"That had made Ukraine the breadbasket of Europe and it made the Great Plains the breadbasket of the world," Flyger said.
There were other crops, gardens and orchards that set the Germans from Russia apart, he continued.
"If it wasn't for the Germans from Russia who lived here, we wouldn't have things in our gardens, a lot of the trees we have in our shelterbelts wouldn't be here, and all of our strains of wheat that we have today come from that turkey red wheat. It's an incredible story and I believe a God-given love for the land."
That certainly played a part in the decision to settle in Dakota Territory — and others in Nebraska and Kansas — and to persevere through what had to have been very difficult early years.
"It couldn't have been easy," Flyger said, "but they had thousands of miles between here and the seas and thousands of miles between the sea and where they came from.
"They knew they couldn't go back."