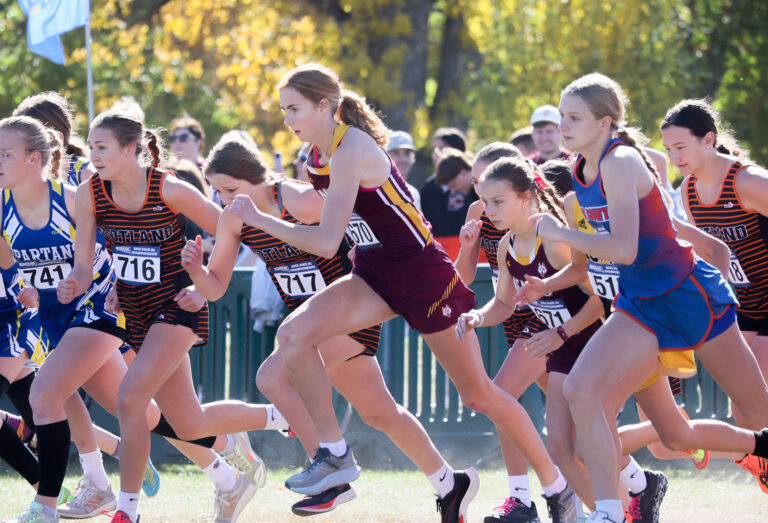 sports
MASSEY GETS HER STATE XC MEET MEDAL
In the fall of 2018, Ashton Massey embarked on a cross-country journey that started strong but was marked largely by frustration along the way.
Her reward came on Saturday.
Competing in the final 5,000-meter race of her high school days, the Menno senior finally earned a medal thanks to a 19th place finish at the State Cross-Country Meet in Sioux Falls Saturday afternoon. Massey crossed the course at Yankton Trail Park in 20:52.04 — good enough for hardware by less than two seconds.
"Only took me six years," said Massey, who finished 36th at state as a seventh grader and, in the years thereafter, placed 41st, 66th, 108th and 46th. "It means a lot. I've spent a lot of years trying to (win a medal). There have been a lot of injuries and mental struggles along the way. But I did it and I'm really happy."
It's a been a strong fall for Massey, who was coming off an outstanding track season in spring highlighted by her three gold medals at state. She was at or near the front of the field all season long, set a school record of 19:50 at the Irene-Wakonda Invitational on Oct. 4, finished second at the Region 3B meet in Burke one week later and went into Saturday's race with a clear mind.
"That first loop my focus was on my posture and paying attention to my shoulders and hips — and trying to remain positive," said Massey, who knew she was in medal contention throughout the race thanks to words of encouragement from friends and coaches. "I knew I was going to get it and that I just needed to keep going."
Massey was joined on Saturday by Zoe Schaeffer, an eighth grader competing in her second state cross-country meet in as many years. Schaeffer improved on her 95th-place showing in 2022 with a 23:33.23 clocking and 87th place finish on Saturday.
"I wanted to get top 75, but in my head I was just telling myself never to give up," said Schaeffer. "It was pretty windy on the back stretch, the hills were OK and the finish was good. It didn't feel as long as Huron."
Mostly, Schaeffer was just happy for her teammate.
"I'm so excited for her; it's her senior year and that's what she really wanted to do," she said. "I'm so proud of her. She's pushed me a lot. I probably wouldn't be here if it wasn't for her."
"I love Zoe," said Massey. "Every day, every practice, every meet, she puts a smile on her face. I'm so proud of her and everything she's accomplished, and how hard she works. I will be so excited to watch her next year."
As for leaving cross-country behind, Massey says it's hard to say goodbye but she will leave with nothing but fond memories of the people she encountered along the way.
"From Joe Grassmid to Zoe, they make this sport fun," she said. "They make it family. It's just really cool."