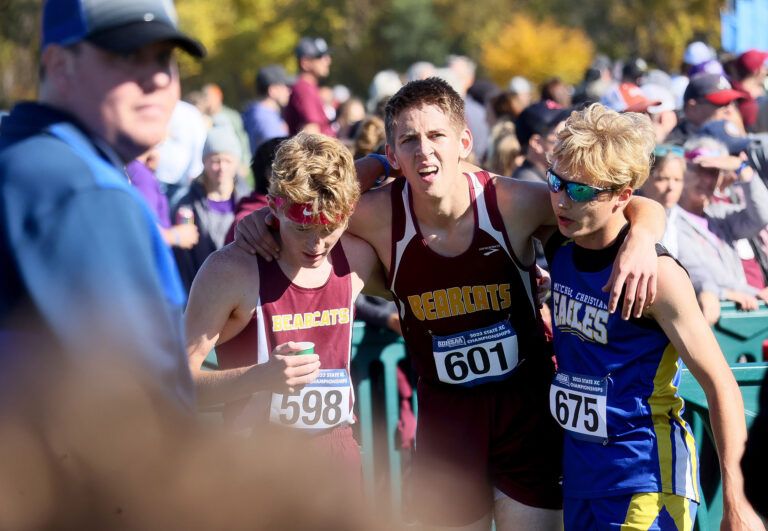 sports
SCHROEDER, MCCONNIEL FINISH 3RD, 5TH TO LEAD FAM BOYS TO 4TH
Freeman Academy/Marion cross-country coach Suzanne Koerner surmised several weeks ago that the Bearcats would turn in the best one-two finish since the boys' remarkable run of strong state meets began in 2012.
She was right.
Running at the 2023 State Cross-Country Meet at Yankton Trail Park in Sioux Falls Saturday, Oct. 21, home-schooled senior Tavin Schroeder crossed the line third and Marion junior Finley McConniel finish fifth to lead the Bearcats to fourth place in the Class B standings. It was the 12th year in a row the FA/Marion boys finished in the top six in the team standings.
While that's an accomplishment the likes of which is reserved for only for the best programs in the state, there was a slight sense of letdown following Saturday's early-afternoon race.
Schroeder, second at state a year ago, had hopes of winning the individual title and was in the lead with 1,000 meters to go only to be caught and passed by Mitchell Christian freshman Silas Holdeman — who won the race by almost 9 seconds — and Philip senior Wakely Burns.
And his time of 16:28.9 was short of a PR.
"It was a little disappointing," said Schroeder, who in addition to his runner-up finish a year ago was eighth in 2021, 12th in 2020 and 36th in 2019. "But at the same time, I've never felt like I reached that point where I didn't have anything left."
In other words, he gave it all.
And while there was never a notion the Bearcats could compete with a loaded Philip team for the state championship — the Scotties ended up winning by a landslide — there were quiet hopes for a runner-up finish, or if nothing else a top three spot.
But the Bearcats were at a disadvantage because the student-athlete who was set up to be the team's third runner, Marion junior Hayden Schmidt, was sidelined this year with a concussion, and their next-best runner, FA sophomore Jayson Allison, was also battling an injury and forced to cross-train on a bike rather than put in miles late in the season. Allison ended up 92nd in the field of 115, Marion eighth-grader Kolter Schmidt was 96th and FA sophomore Armando Miller was 98th.
"It was a disappointing day — some of it not fully unexpected," Koerner said back at the team camp following the race. "We struggled with our third runner, and those medical issues left a gap and took the edge away. But that's just how it goes."
Still, the FA/Marion boys did end up with another team plaque; going back to 2012 the Bearcat boys have been sixth once, fifth once, fourth three times, third three times and second four times.
And they did have two runners finish in the top five.
"We did — we did," said Koerner. "We can't overlook that success."
And that rub between ultimate success and a sustained place in the Class B ranks is something that the longtime coach — and three-time state championship runner for Freeman Academy — admits she wrestles with.
"It was tough year, but overall, I think the boys did well," she said. "I have to think where the success is. Is the success in the moment or is the success over the long haul? And for us for sure it has been in the longevity of our seasons.
"That elusive state championship — I would love to have that and that's still always the goal," Koerner continues. "But if I had to choose, I think I would choose the longevity because it's nice to be able to go out there, season after season, and have other teams look at you with some anticipation."
While Schroeder wrapped up his prep cross-country career on Saturday, the Bearcats will crown a new team leader in McConniel, who was eighth at state as a sophomore and was pleased with his fifth place showing on Saturday.
"I felt good," said the Marion junior, who finished Saturday's race in 16:48.51 was just off his PR. "I was in front of Tavin and Silas for a while, but they're fast and they got me, but I fought off the Potter County kid and I'm happy with my placement."
McConniel had nothing but praise for Schroeder.
"He's a great runner, a great teammate and a great friend," he said. "He's got great energy and he's always picking you up when you get down. It sucks that he didn't win it, but he's definitely got the heart."
And McConniel is ready to come back and lead the team next fall.
"Hopefully we can make a lot of progress over the summer and get back here next year," he said. "I'm going to have to work hard over the summer, but I want to come back and win it."
WALTNER LEADS FAM GIRLS
This year's state meet was different for Freeman Academy/Marion's top runner in the girls field in terms of both mindset and results, and Estelle Waltner knows that one is related to the other.
"I fell asleep last year at state and wanted to have a stronger mindset this year," said Waltner, a sophomore at Freeman Academy. "I kept fighting the who race and, through every step, I thought about what I needed to be doing — if I needed to be sitting or I needed to be kicking."
The result was a 29th-place finish for Waltner. Not only was that 10 spots better than the effort of 2022, her time of 21:20.58 was considerably improved over last year's clocking of 22:03.18.
"It felt strong," she said. "This year I thought about my goals — not about what others were doing. I tried to think about how I put in the work and how I needed to throw down today. And it felt good."
The Bearcat girls were also represented by FA junior Sieta Wiersema, who like Waltner qualified for state thanks to a top-20 finish in the Region 3B meet. Wiersema finished 97th in the field of 113 with a time of 24:33.76.
Class B boys
Philip 13
Mitchell Christian 37
Northwestern 47
Freeman Academy/Marion 69
Gregory 72
Frederick Area 83
Class B girls
Potter County 22
Arlington 43
Lemmon 46
Chester 52
James Valley Christian 63
Northwestern 73
FAM boys' state and top-two finishes the past 12 years
2012 – 4th: Ben Brockmueller 16th, Matthew Graber 23rd
2013 – 6th: Ryan Haggerty 11th, Cole Hofer 27th
2014 – 3rd: Ryan Haggerty 10th, Dane Allison 24th
2015 – 2nd: Thaniel Schroeder 9th, Ryan Haggerty 20th
2016 – 2nd: Allison 6th, Thaniel Schroeder 12th
2017 – 2nd: Thaniel Schroder 4th, Brennan Haggerty 13th
2018 – 4th: Thaniel Schroeder 2nd, Titus Roesler 26th
2019 – 5th: Roesler 10th, Tavin Schroeder 36th
2020 – 2nd: Roesler 4th, Tavin Schroeder 12th
2021 – 3rd: Tavin Schroeder 8th, Malachi Myers 9th
2022 – 3rd: Tavin Schroeder 2nd, Finley McConniel 8th
2023 – 4th: Tavin Schroeder 3rd, McConniel 5th