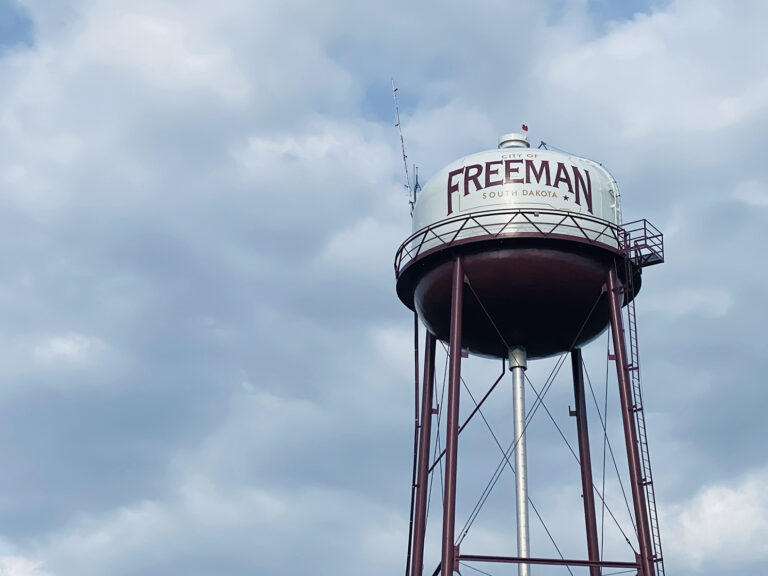 news
FREEMAN RESIDENTS TO SEE WATER RATE INCREASE
Residents living in the city of Freeman are facing an upcoming increase in water rates per a new ordinance scheduled for a first reading at the Freeman City Council's next meeting Tuesday, Nov. 7.
The action is being taken to address a deficit in the city's water fund.
City finance officer Lisa Edelman told The Courier that the water fund was showing a negative balance of $11,534.65 at the end of September, a trend that is the result of ongoing upkeep and an increase in expenses — including the full renovation of the city's primary water tower in 2020 that included a payment of $80,575.91 in February and an ongoing annual maintenance fee through 2029.
Here's what city users can expect:
With the exception of those who qualify for low-income energy assistance through NorthWestern Energy — those residents pay a monthly water usage fee of $10.25 — the rate increase will impact all residents and businesses regardless of how much water they use.
Those who use the minimal 1,000 gallons or less — 222 of the 619 city accounts, according to information presented at the council's Oct. 17 meeting — will see a monthly jump of $1, from $16.25 to $17.25. This is the first water-rate increase for those who fall into the minimum usage category since 2019.
Those who use 1,001 to 500,000 gallons a month will see an increase of 10 cents-per-gallon in addition to the monthly minimum, from $5.02 to $5.12. That rate was last bumped from $4.85 to $5.02 in 2022.
And those who use more than 500,000 gallons a month will see a secondary surcharge of 10 cents per gallon, from $3.45 to $3.55. That's rate that was also increased in 2022, from $3.28 to $3.45.
The council is also increasing the water rate for those who buy in bulk, like construction crews and farmers who spray. That is being adjusted from $5 to $6.50 per gallon.
And the cost for new hookups is going up as well, with residential moving from $500 to $600 and commercial from $600 to $1,000.
Also at the Oct. 17 meeting, the council voted 4-1 to borrow $50,000 from city's sewer department with payback coming from the revenue that will be generated by bulk water purchases from the Dakota Protein Solutions rendering plant being built one mile east of Freeman.
The sewer fund is currently sitting at about $650,000.
Charles Gering, who wondered if that loan couldn't come from somewhere else, cast the no vote — a reversal that came not long after he said, "I can support borrowing it from sewer for the time being."
When questioned about the change at the meeting, Gering replied, "I changed my mind."
While council members were sympathetic to the rate increase, there was little question during the discussion that something had to be done.
"The bottom line is the water is in the red as we speak," said councilor Lonnie Tjaden, chair of the water committee who made the initial recommendations, who noted that, with winter coming, additional expenses are expected. "This is bare bones; this is just putting water back on its feet."
Councilor Elizabeth Waltner said this is a reflection of the time.
"The dollar (today) is worth so much less than the cost of everything else," she said. "Just an unfortunate reality."
Edelman said, should the council procced as planned, the second reading of the ordinance would be held the second meeting of November — scheudled for Nov. 21 — with the rate increase likely going into effect Jan. 1, 2024.