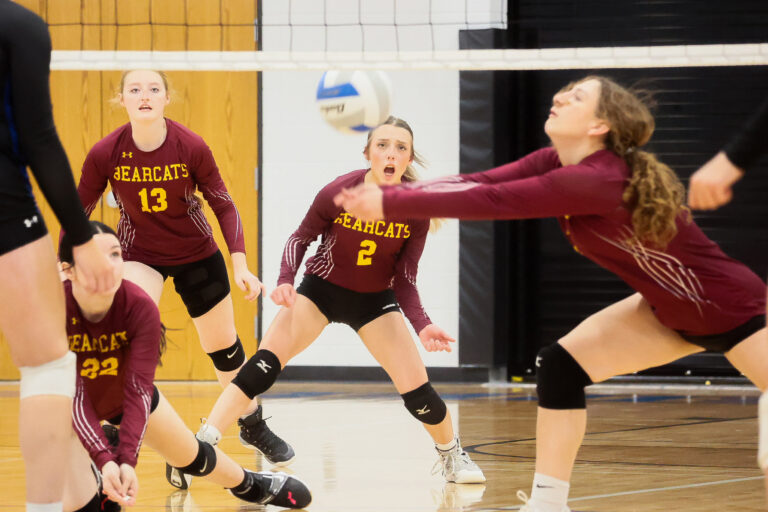 sports
REGION 4B VB: BEARCATS GO DOWN SWINGING
Just win a set.
That's all head coach Jen McConniel and the Freeman Academy/Marion volleyball team were aiming for when they stepped onto the court in Irene to face Irene-Wakonda in the opening match of the Region 4B Volleyball Tournament Monday night, Oct. 30.
They came oh so close.
The Bearcats had a match point at 24-23 in the opening frame only to be outlasted by the Eagles, and then, after being overwhelmed by Irene-Wakonda in the second set, edged ahead 20-19 in the third, only to be finished off in the end.
Set scores went in favor of the home team 30-28, 25-16, 25-21.
"A lot of sadness," Bearcats head coach Jen McConniel said of the mood in the locker room after the disappointing but hard-fought loss. "Sadness for the seniors because it's over and sadness that we couldn't get even one (set) win in tonight. These girls really did work hard."
Monday's loss was a tough one in a season full of tough ones; the Bearcats finished their 2023 campaign 0-25 and won just three sets all year — one to Irene-Wakonda on Sept. 12, one to Centerville on Sept. 14 and one to Scotland on Sept. 30.
Still, there was perspective after Monday night's loss.
"We might not always win, but the girls do love being out there," said setter Sarah Cremer, one of three seniors on the team. "We all love each other and we love the game and that's what I think is the most important.
"We have a lot of heart for the game."
"We have a pretty bad record, but even through that, we're trying as hard as we can to get a win and are always proud of ourselves, even if we lose," said senior hitter Alexa Gortmaker. "But we always try as best we can."
That effort was on full display against Irene-Wakonda Monday as the Bearcats showed grit in their battle with the Eagles. FA/Marion built an early lead at 11-7, survived a burst of momentum from the home team that tied the match at 13-13 and then exchanged points in a set that went well into overtime. While the Bearcats couldn't quite finish off the Eagles after going ahead 24-23, they survived multiple set points to extend play before finally falling 28-30.
And, after a rough second set and early 0-4 deficit in the third, FA/Marion regained some footing and battled back, tying the set at 6-6 and, later, going on a 6-2 run to take a 19-18 lead.
But, as was the case in the first frame, the Bearcats couldn't close the deal; the Eagles scored seven of the next nine points to finish off FA/Marion and advance to Tuesday's second round against top-seed Alcester-Hudson.
"I just wish we would have went out with a bang on this one, but I guess not," said Isabelle McConniel, a senior who is the team's primary setter and showed considerable emotion following the loss. "We all fought pretty hard; it's just really hard."
Gortmaker said she was proud of her team — "how well we could pull ourselves together and play together," she said.
And Jen McConniel noted the level of improvement she has seen in her girls since taking over as head coach in 2022, and that the Bearcats have fought through challenges that are inherent at a small school like Marion.
"These girls in these small towns have so much going on — they are stretched so thin," said McConniel, who is prepared to come back and coach through next year. "It's really hard, especially in Marion, to focus on one thing at a time like they do in bigger schools. Some of these girls are in volleyball and are in oral interp and are football cheerleaders and in National Honors Society, and it's just an overwhelming time for them right now."
Still the team found perspective following Monday night's loss.
"Even though our record doesn't show a lot, but I think we've improved so much over the years," said Isabelle. "The scores keep getting better, the games keep getting better, and I hope (the younger players) can keep improving and eventually start winning."
Said the coach: "Even though they're all sad that we lost and we're done tonight, every single one of them encouraged the girls to continue to go out for volleyball and said, 'Win the games next year,' and 'We believe in you.' So there's positive encouragement being left in the locker room tonight."
Cremer said the years have been challenging but rewarding at the same time.
"Watching my teammates grow and develop, not just as players, but as people has really been something to see," she said. "I love every one of them."
And when asked what she'll remember the most about playing volleyball for Freeman Academy/Marion, Cremer didn't hesitate.
"The friendships I made," she said. "That's for sure."
Isabelle agreed.
"They're always so happy and good-spirited," she said of her teammates. "I'm going to miss practice the most. They were always so excited to be there and worked so hard. It was amazing to be with them."
And her advice to those coming back?
"Keep going," she said. "Never take time for granted. Play every game like it's your last, because one day it's going to be and it's going to suck."