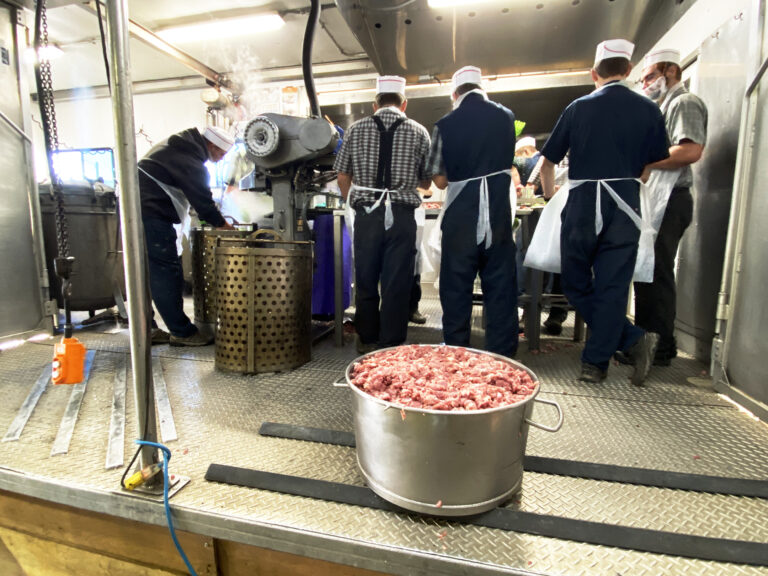 news
DOZENS CONVERGE FOR MCC PROJECT 'IN THE NAME OF CHRIST'
A force of Freeman Academy students in grades 3 through 6 energetically walked into the service area at C&B Operations Monday morning, Nov. 6 and then, after shredding their coats and getting acclimated to the lay of the land, took a seat on long tables pushed together. A short while later, sealed cans, each containing about 2 lbs. of cooked chicken, started coming down the assembly line for washing, drying, labeling and boxing, and the young hands worked together toward the effort marked by efficiency and generosity.
Not far away, a group of men in rubber gloves were working with whole, hind-quarter sections of chicken and grinding them into bite-sized pieces. And adjacent to them, another group was standing on the platform of a semi trailer used as a portable meat canner filling dozens of metal cans with the prepared chicken for its three-hour cook.
This is what Mennonite Central Committee (MCC) meat canning looks like.
The several dozen students and adults alike stationed at C&B Operations Monday morning represented a volunteer force that would total close to 150 over the course of two days; 12,000 lbs. of turkey was canned for local, national and worldwide relief that is at the heart of the longstanding service project affiliated with MCC.
"I just it's really cool to see people part of a ministry like this," said Joey Graber, a local farmer who helps coordinate the local meat canning effort along with another local farmer, Ben Carlson. "You don't often get to have a hands-on experience where people — families sometimes come — have the opportunity to serve together."
The Nov. 6-7 visit to Freeman by the traveling meat canner and the crew of four who operate it was part of a national tour of service that began in Sterling, Ohio on Oct. 3 and will conclude in Lowville, N.Y. next April. In-between, the canner and its crew were scheduled to make more than two dozen stops in Ohio, Kansas, Nebraska, South Dakota, Oklahoma, Iowa, Illinois, Indiana, Pennsylvania, Virginia and New York.
The net result will be several hundred thousand of cans of USDA-approved meat that will land in the hands of those in need around the world. During the 2022-23 meat canning season, 383,040 cans of meat were distributed in the United States and Puerto Rico, as well as Cuba, Ecuador, Ethiopia, Haiti, Malawi, South Sudan, Ukraine and Zambia.
"This gives people a global picture of what service in Christ look like," said Graber, who notes that 10% of what is canned in Freeman will remain in the community for local distribution, with the rest going to MCC headquarters in Kansas for shipments around the world. "And the people here know that those who receive this meat are grateful. It puts things into perspective, that there's more to this world than what's going on around us. It's a great world view."
Among those volunteering Monday morning was Charity Ortman, who was working with the food and drink provided during the two days. After all, the workers have to eat.
"I think one of the important parts of doing this locally is that it gives people an opportunity to work together who wouldn't otherwise," she said. "It's a common mission where the community can work together — where the old and the young can work together."
Among the "young" helping out Monday morning were her own children, Simon and Emmit, who are fifth and fourth graders at Freeman Academy, respectively.
"I love seeing my kids working here and I love seeing their classmates and their peers here," Ortman said, noting that she would like to see other community members not necessarily affiliated with the Mennonite Church taking part — something that would alleviate what is typically a barely-enough workforce. "I think bringing the larger community together is an important part of this."
MCC meat canning has a long history in this community and originally dates back to the 1940s, when canning was done in the basement of the City Café — today home to The Courier.
But it didn't become an annual occurrence until the 1970s, first at Wiens Auto Mart, then at Rapp Chevrolet in Marion, and most recently at C&B Operations.
And over the years the meat has shifted from beef to chicken and turkey, which better aligns globally with cultural acceptance.
The common thread in all of it is the phrase that is stamped onto the labels on each can — "in the name of Christ."