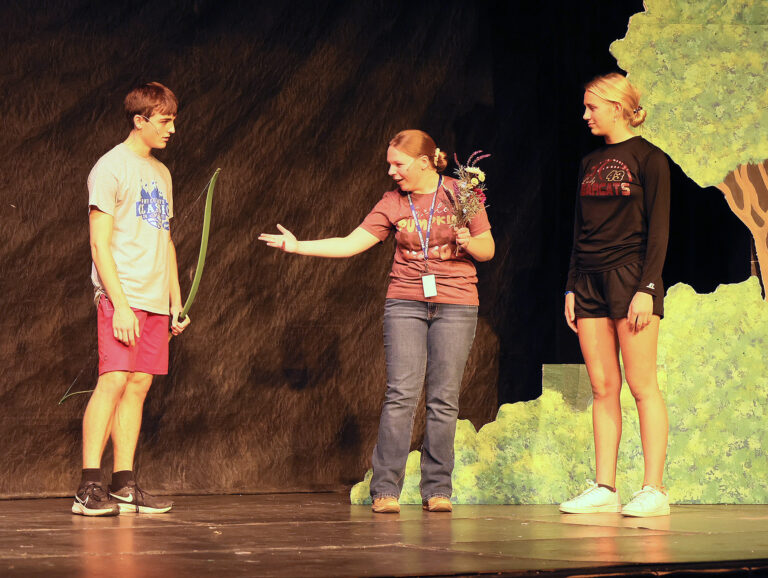 photo day
PHOTO OF THE DAY: ACTING OUT
Freeman Academy students Liam Ortman, Madelyn Anderson and Estelle Waltner rehearse a scene from "Robin Hood The Musical" on the Pioneer Hall stage after school on Tuesday. Ortman plays the title character, Anderson is Maid Marian and Waltner plays the part of Annabelle in the timeless classic that takes the stage Friday and Saturday night, Nov. 10 and 11 Doors will open at 7 p.m. in advance of the 7:30 p.m. curtain, and tickets will be sold at the door. Students from Freeman Academy will be admitted for free.
Billed as "a comedy for the entire family," the production focuses on Robin Hood, "the outlaw of Sherwood Forest leading a merry life with followers," according to the synopsis on Pioneer Drama Service.
"Anyone needing a place to live or food to eat is welcome in the greenwood. Impoverished citizens led by Robin are waging a battle against the evil Prince John. He has taken the place of King Richard the Lion-Hearted, who has gone on a crusade. Lady Merle of Cornwall, however, hopes to make John more acceptable to the people of England by forcing Maid Marian, Robin's childhood sweetheart, to marry the Prince. It's up to Robin to stop the marriage, defeat a nasty sheriff and secure Nottingham for the king's return."
Freeman Academy's production feature a cast of 16 and chorus and support team of 16 others.
Principal cast
Beth – Brooke Snyders
Mother Meg – Bieta Wiersema
Old Widow – Jada Buse
Little John – Armando Miller
Will Scarlett – Christian Ortman
Robin Hood – Liam Ortman
Friar Tuck – Jax Kaufman
Maid Marian – Madelyn Anderson
Annabelle – Estelle Waltner
The Stranger – AJ Miller
The Sheriff – Sam Clark
Lady Merle – Stefany Cortes
Soldier 1 – Simon Wiersema
Soldier 2 (Kaspar of Lincolnshire) – Afouh Njingeh
Sheriff's Wife – Jessica Paschal
Salome – Arianne Fink
Chorus: Darion Fore, Jayson Allison, Alecksi Gomez Hofer, Abigail Bradley
Crew
Senior Tech/Lighting – Sam Waltner
Asst. Tech/Lighting – Josh Janssen
Sound Manager – Elshadai Mesfin
Asst. Sound Manager – David Ilunga
Stage crew: Solomon Ortman, Daniel Ilunga, Alea Miller, Arianna Miller
Support
Sound/Set-Up/Support – Nathan Schrag
Director/Stage Designer – Tiffany Hammerstrom
Choral Director/Trumpet – Rolf Olson
Choreography/Director – Mataya Yilmaz
Pianist – Sheila Epp
Bass – Craig Wollman