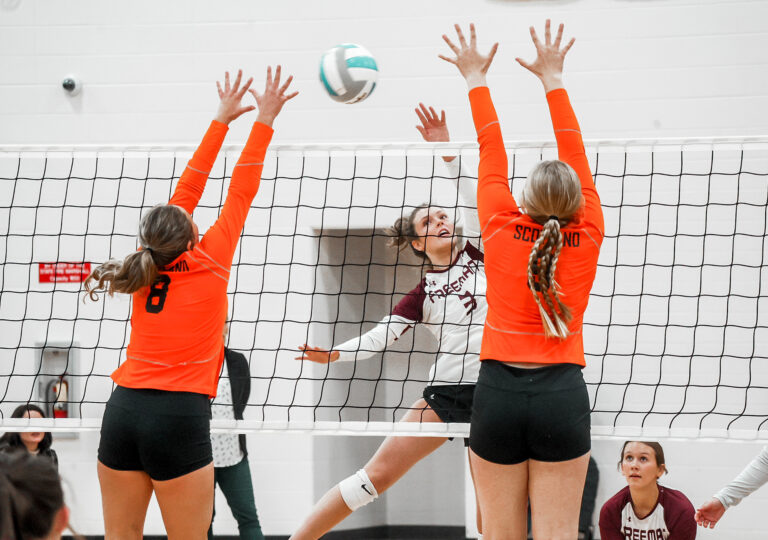 sports
REGION 4B VB: FLYERS ENDURE EARLY EXIT
A season that began with an abundance of hope ended in a wash of disappointment for a Freeman High School volleyball team that had its sights set on a return trip to state.
Instead, the Flyers didn't even win their first game of the Region 4B Volleyball Tournament last week Tuesday, Oct. 31, falling to a Scotland team Freeman had handily defeated during the regular season.
The No. 3-seed Flyers and No. 6-seed Highlanders exchanged set wins before Scotland finished it off in the fifth frame; scores went in favor of the winners 25-23, 8-25, 25-15, 22-25, 15-8.
"It was one of those matches where it was going to come down to who wanted it more, and tonight Scotland came to play and deserved that win," first-year head coach Jessie Ahlers said after an emotional gathering in the locker room following the match. "It wasn't even that we were playing bad volleyball; sometimes there's some unlucky things that happen and it really didn't go in our favor tonight."
Freeman entered Region 4B play on the heels of what had been an uneven season that had initially held much promise. Ahlers said she and the girls felt early on that getting back to the state tournament was an attainable goal and that the Flyers expected to lose but a handful of matches all season.
While the Flyers lost two of three at the Hanson Early Bird Invitational to start the season the fourth week of August, they bounced back to win nine of their next 12 matches and took a 10-5 record into a Cornbelt Conference showdown in Menno on Sept. 21.
It didn't go well for Freeman. The sub-.500 Wolves had little trouble with the visitors and stunned them with a 25-15, 25-23, 25-14 win; that started an eight-match losing streak over three weeks in which the Flyers won just three sets.
The Flyers got a pair of wins back against Viborg-Hurley and Hanson on back-to-back nights in mid-October, but three more losses closed out a regular season in which they lost 11 of their last 13.
Still, the team's strength of schedule and seed points in a relatively weak Region 4 put the Flyers in the No. 3 spot and gave them a winnable home match against a Highlanders team they had swept six weeks earlier.
Plus, Freeman had a solid track record in recent years when it came to winning when it matters most. The Flyers had gotten through to the SoDak 16 every year starting in 2018 and then upset Jones County in straight-sets last November to reach what was their first State Volleyball Tournament since 1998 and second in program history.
And, for a short while in last week's region match against Scotland, it looked as though the Flyers were on their way to the first step toward another inspiring run. After playing the Highlanders even early on, Freeman went on a late run in the first set to take a 23-17 lead and draw within two of taking an all-important 1-0 lead.
But it wasn't to be. Scotland quickly found the momentum and won the final eight points of the frame to steal the opening set.
"That was definitely a wakeup call for the girls," said Ahlers. "I think they thought they had it in the bag — that they had everything wrapped up. And I told them, 'This is volleyball and anything can happen. You cannot take any point for granted; you have to fight for everything.
"I knew we could do better than what we were showing," the coach continued, "and they came out that second set and proved that they can compete at a high level, so I was happy to see that."
Indeed, the Flyers dominated the second set en route to a 25-8 win that tied the match at 1-1.
"We always talk about getting that momentum swing back in our favor and that's what happened," said Ahlers. "But I also knew that the next couple of games were going to be all about momentum shifts, and that's what we saw. They started making some really great plays and it became about who had the momentum at certain times."
To that end, she continued, "they were exciting games."
Freeman and Scotland exchanged wins in sets three and four to force a fifth and decisive race to 15 points and, in the end, the last momentum swing went in favor of the Highlanders. Scotland scored the first five points of the fifth set and the Flyers couldn't fully recover, drawing as close as 7-11 but losing four of the next five points to see their season come to a close.
"Scotland came to play," Ahlers said. "Give them credit."
Freeman finished a disappointing 12-16 while Scotland took a 7-16 mark into the Region 4B final round two nights later, when they were swept by No. 2-seed Gayville-Volin.
No. 1-seed Alcester-Hudson was the other Region 4B team to make it through region play, downing No. 4 Centerville 3-2.
In SoDak 16 play Tuesday night, Alcester-Hudson was the No. 13 seed and faced No. 4 Colman-Egan while Gayville-Volin was No. 14 and matched up against No. 3 Faith.
Postgame perspective
For the four seniors on this year's Flyers team, last Tuesday's loss to Scotland meant the end of their volleyball prep careers. Freeman will say goodbye to Zenovia Bulter, the team's leading hitter; Cami Fransen, the team's leading setter; Ashlin Jacobsen, who recorded her 1,000th dig during the season; and Ava Andersen, a co-captain who came off the bench to help control the serve and back-row play.
"I know that tonight's loss is tough on them — it's tough on me," Ahlers said after the loss to Scotland. "It's hard for the seniors to walk out of this gym knowing that they played their last volleyball set, but I told them in the locker room that they have such bright futures.
"This is going to be just a little timestamp on their timeline and that they can be sad about it for a while, but they need to look forward, because they really do have incredible futures ahead of them."
That holds true of the entire team, she said, including a large junior class that saw key contributions in the primary rotation from Emily Mendel and Ella Waltner throughout the season, as well as underclassmen Vaida Ammann and Rylee Peters who also saw considerable playing time.
Juniors Erica Swensen and Rylee Law also saw a spot in the starting rotation at various times.
"They really do have a bright future," says Ahlers, who will remember her 2023 squad with great admiration.
"This team means a lot to me," she said. "There are so many different personalities, but they're all so unique and kind-hearted and special in their own way. It really is a great group of individuals. They're going to go on and do some amazing things in their lives and I'm just glad I've been able to be a little part of that.
"This team is really special and it's definitely a team I'll never forget."
And her final message to the girls?
"Be proud of what they did this season. I don't fault them for anything that happened on the court tonight or anything that happened this season. They really were all in the whole time. I couldn't have asked for anything more."
Box score
Zenovia Butler: 14 kills, 16 digs, 3 blocks; Ella Waltner: 12 kills, 3 digs; Ashlin Jacobsen: 9 kills, 13 digs, 2 aces; Emily Mendel: 6 kills, 21 digs; Cami Fransen: 36 set assists, 10 digs, 1 block, 1 ace; Vaida Ammann: 13 digs, 1 ace; Ava Andersen: 1 dig