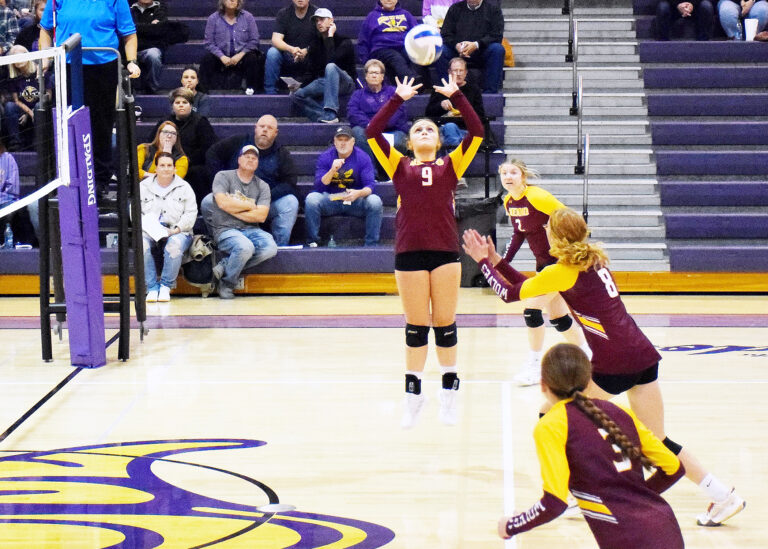 sports
REGION 4B VB: MENNO'S 'ROLLERCOASTER' SEASON ENDS IN CENTERVILLE
Because of what they've shown to be capable of this season, there's every reason to believe that Menno went into the Region 4B Volleyball Tournament last week fully believing they could knock off higher-seed Centerville, and early on, it looked like they were well on their way.
Facing the No. 4-seed Tornados on their home court Tuesday night, Oct. 31, the No. 5 Wolves got off to a blistering start by taking advantage of a pair of aces by Joslynn Fischer, well-placed balls at the net and some Centerville mistakes to jump out to a quick 7-0 lead.
That level of separation was only extended as the first set carried on; the Wolves led 13-4, 17-5 and 23-11 before an Ellyana kill put the first frame away 25-12.
It would be Menno's final set win of the season.
The Tornados regrouped and responded, taking care of the next three sets 25-22, 25-20, 25-23 to win the match 3-1 and advance to the region's final round Thursday night. There, Centerville lost 3-2 to No. 1-seed Alcester Hudson to finish the season 15-18.
Menno finished the 2023 campaign with a 10-18 mark.
After the loss to Centerville, Menno head coach Rachel Stokes said she was happy with the effort.
"The first set was great, but we knew that they would come out ready to play the second set," said the coach. "We played close the entire match; unfortunately, our errors (cost us) in the last three sets, but the ladies never gave up and battled for the entire match, which make me incredibly proud."
Stokes has similar feelings about a season she described as "definitely a rollercoaster." The Wolves were at .500 just once after 1-1 at the Hanson Early Bird Tournament in late August, but in September won four of five to get to 8-9. Menno played in eight matches that went five sets and won just one of those, and finished the season losing nine of their last 11.
But this was also a team took down rival Freeman in a sweep on Sept. 21 that wasn't even close, which Stokes says was the highlight of the season.
"The team was really dialed in for the win," she said. "The overall mood for the season was positive and exciting. The ladies worked hard all year long."
Even after a tough loss, of which there were a number, "they would always come to practice wanting to improve."
Stokes credits her five seniors — Kaelie Derby, Bianca Fischer, Alexis Hogeland, Ashton Massey and Maggie Miller — for keeping the Wolves on task and on track throughout the season.
"I have had wonderful groups of seniors over the years, but this group was committed to keeping things positive, working hard and limiting drama, which can kill team chemistry," she said. "For a coach, knowing that my seniors are working to keep everyone on the team on the same page makes my job easier. It allows me to focus on the mechanics of volleyball and what's best for the team."
This year's roster includes six juniors — including Fischer, who set a Menno school record with 416 set assists in a single season — and three sophomores who will step into upperclassmen leadership rolls next year, and Stokes' message to those returning is simple:
"Work hard in the off season," she said, "and take note of this year's senior leadership and bring the positive team chemistry back next season."
Box score
Ashton Massey: 15 kills, 6 blocks, 4 digs; Ellyana Ulmer: 5 kills, 1 block, 3 set assists, 28 digs; Joslynn Fischer: 5 kills, 23 blocks, 32 set assists, 11 digs, 2 aces; Lexie McNinch: 5 kills, 6 blocks, 1 dig; Kaelie Derby: 4 kills, 3 blocks, 1 set asset, 2 digs, 2 aces; Amanda Rames: 4 kills, 1 block, 1 dig; Maggie Miller: 2 kills, 1 set assist, 27 digs; Taylor Freier: 1 kill, 1 block, 2 set assists, 22 digs; Haylee Hall: 1 kill, 1 set assist, 6 digs