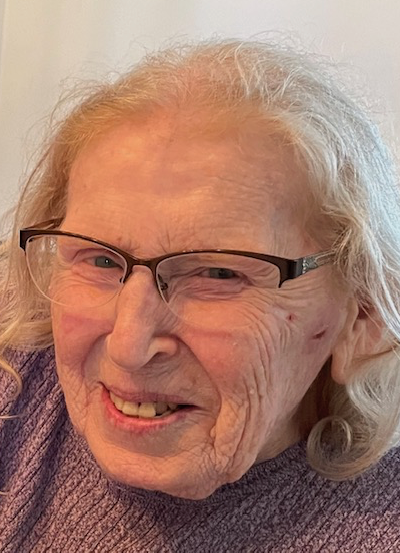 obituaries
Joann Darlene Bechtold, 89
Joann Darlene Bechtold, age 89, died on Oct. 17, 2023 at Manoogian Manor, Livonia, Mich. Joann was predeceased in death by her parents, Kate and Ed Bechtold, and sisters Eleanor and Donna. She is survived by her sister, Idella Anderson (Carl), many nieces and nephews, best friend Maria and family, and lots of neighbors. Joann was a friend to all whose lives she touched. Family and friendships encompassed all aspects of her life, and all were special to her.
Joann lived a full and very interesting life moving from Menno, S.D. to Detroit, Mich,, by herself at a very young age. She eventually landed a job as a chamber maid working for Horace Dodge of Dodge Auto Company and had the most interesting stories to tell about the Dodge family. After leaving her employment with the Dodge Family, she and her friend encountered on a journey and moved to West Berlin, Germany. While in Germany, Joann worked as a waitress in an American restaurant serving members of the military. After living in Germany for seven years, Joann would return to Detroit. Joann's faith in Christ was central to her life and she joined to become a Cloistered Dominican Nun at the Monastery of the Blessed Sacrament in Farmington Hills, Mich. She worked in the infirmary there and became great friends with Sister Faustina, Sister Mary, and Sister Therese Marie. She regularly attended sermon at the monastery and at church. Eventually, Joann decided that nun life was not for her, but continued to visit the monastery on a regular basis bringing her lifetime friends, lots of chocolate and goodies over the years.
After leaving the Monastery, Joann decided to enroll in college while working and received an associates degree in respiratory therapy. Her employment was with Sinai Grace Hospital in Detroit, where she eventually retired at the age of 60 as a respiratory therapist.
Joann loved working in her garden, loved photography, enjoyed Thai Chi, took classes at the local community college for baking and bread making, and working with yarn. Even though she never used it, Joann purchased herself a very large loom and thought maybe one day she would use it. Her love of photography got her an entry in a photography contest and she would go on and win first place. The winning photo Joann took was of a sidewalk filled with people walking in Germany.
Joann's memory will live on with those that she touched.