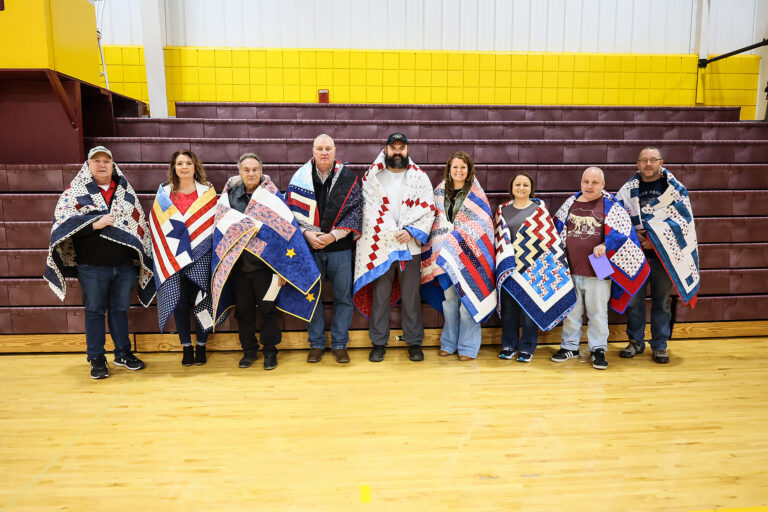 photo day
PHOTO OF THE DAY: DAY FOR VETERANS
These nine veterans with ties to the Menno community were recognized with Quilts of Honor and Quilts of Valor during a special Veteran's Day observance at Menno High School Friday afternoon, Nov. 10 — one day before the traditional federal holiday set aside to remember those who served in the Armed Forces. Pictured are, from left: Jeff Liebl and Shirlene Simonsen (Quilts of Honor); and Joe Eide, Todd Heckenlaible, Robert Heckenlaible Katie Huber, Jennifer Masterson, Troy Heckenlaible and Lee Heckenlaible (Quilts of Valor).
Quilts of Honor are presented to bestow a universal token of thanks, solace and remembrance to those who are serving — or have served — in the military.
Quilts of Valor are presented to members of the military who saw active combat; the Quilts of Valor Foundation was established in 2003 to bring comfort to "boots on the ground" veterans who have been touched by war. Since the foundation was established, more than 300,000 Quilts of Valor have been distributed nationwide.
Women in the greater Menno area have been awarding Quilts of Honor and Quilts of Valor since 2018; including this year's class of recipients, 58 have been made and distributed.
Friday's Veteran's Day program at Menno High School was presented by the Menno National Honor Society.