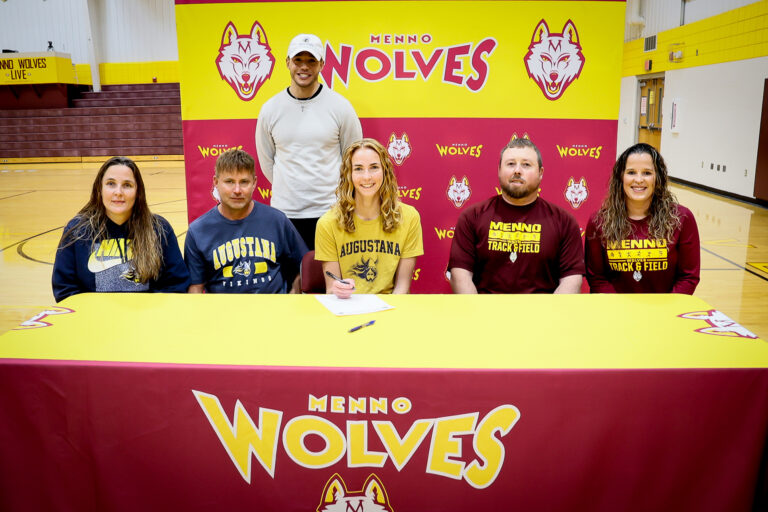 photo day
PHOTO OF THE DAY: AUGUSTANA-BOUND
Wednesday morning was a big moment for Menno senior Ashton Massey, who ceremoniously signed a letter of intent to commit to track and field at Augustana University. The standout is pictured with her parents, Stacy and Frank (left); her track and field coaches, Ryan Liebl and Kari Zeeb (right); and Kaleb Lindsey-Stevens (standing), one of the track and field coaches at Augustana.
"I'm really excited for the future," said Massey, who won gold medals in the 100 hurdles, 300 hurdles and triple jump at the 2023 State Track Meet. "It's been really great getting to know coach Kaleb Lindsey-Stevens and I really like the academics (Augustana) has to offer, and I like how small their program is compared to some of the other schools I visited. It's more of what I'm used to."
Lindsey-Stevens said Massey is a good fit for the Vikings program given her track numbers, which he says speak for themselves, but also her character.
"It's about building those relationships," said the coach, who says it is yet to be determined how Massey will fit into the track and field program at Augustana. "For her, she wants to go after being that multi-event athlete, but as we get into the year it will be about looking at what's the best fit — where she might place the highest, especially as a freshman and sophomore."
Massey's signing on Wednesday took place in the high school gym and was witnessed by students of all ages and included comments from Menno Superintendent Kory Foss, himself a college athlete on the Augustana baseball team.
"This is a great example of what can happen when you put in all the hard work that Asthon has put in," he said. "She's always here working, a lot of times by herself. This is a result of that dedication."