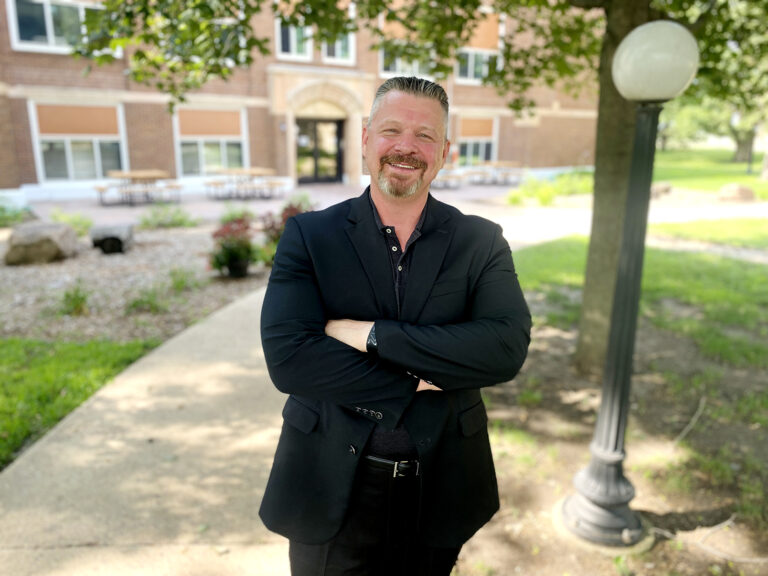 news, photo day
FA, 'CULTIVATE 120' CAMPAIGN A GOOD FIT FOR HARTEL
JEREMY WALTNER – PUBLISHER
It wasn't long after Eric Hartel discovered Freeman Academy and began learning about the larger community that he came upon a way of life that resonated deeply — that this was a place that cared deeply for one another.
"I just got a warm feeling from the community," said Hartel, the new development director at Freeman Academy who has had a career in both business and education throughout the Midwest and today lives in Sioux Falls. "It's only been a short time, but I get a good sense that this is a strong community, where everybody pitches in and helps out, and that really resonates with me. That's part of my own moral compass."
That's one of the big reasons why the 50-year-old believes that Freeman Academy's new school year-long fundraising effort that he's working closely with, Cultivate 120, is set up for success. The campaign aimed at raising $900,000 through intentional means launched on Aug. 21 and runs through May 31 of next year.
"I have a ton of respect for how everybody pitches in," says the 50-year-old, who earned an MBA from Western Illinois University in 2005 and a master's in teaching in 2018. "To me, you don't get anything done without anybody else's help — even if that's just moral support. Not to get too philosophical, but I really believe that.
"I believe that things get done when we all work together, and I see that here," he continues. "It's very cool to see."
Hartel has been actively working as Freeman's Academy's development director for the past two months — a position most recently held by Morgan Koehler; David Colberg held the position before Koehler, Meranda Van Ningen before him, and Vernetta Waltner before that.
Hartel, who grew up in Litchfield, Ill., and has lived his entire life in the Midwest, was most recently employed as a high school finance pathway teacher in Grand Island, Neb.
Before that, he spent 15 years in business unit ownership, where he oversaw and accounted for various financial strategies to improve profit and loss. That, coupled with his time in the classroom, sets him up nicely for the fundraising campaign at hand.
"Before I became a teacher I had quite a bit of responsibility when I worked in business, where the success or failure is yours," said Hartel, who moved to Sioux Falls after four years in education in Grand Island to be closer to his girlfriend. "And there's a lot of overlap with that and fundraising, which is essentially what the development director does. I feel like that makes this a good match."
Even better, Hartel says, he has quickly learned to love and appreciate both Freeman and the Freeman Academy community.
"I went to a small school, so it made sense from a familiarity standpoint," he said of his interest in the job in Freeman. "I see the value in smaller class sizes, the stronger connection between teacher and student so there's more focus, and I believe that's becoming more and more important. I like that about this school."
Upon doing his research, Hartel also discovered that his "moral compass" aligns nicely with the culture of Freeman Academy and the Mennonite faith in which it is rooted, which has made the match all the better.
"I really respect what's going on here," he said.
As for the task at hand, Hartel said the strategy going forward goes beyond the Cultivate 120 campaign. Getting up to speed on traditional fundraising efforts through mailings, church drives, food stands and Schmeckfest has been part of the learning curve.
"All those things will still happen," he said.
But Cultivate 120 adds a layer of intentionality that is being shaped through the work of others involved, including an outside consultant who has helped shape the path forward.
"We just want to make sure there's a way to do more — to make sure the right people who want to give see the need — and invite them to help us," Hartel said.
The other piece of the puzzle that he takes seriously is learning to know the community in general and the friends of Freeman Academy specifically. That's one of the reasons he participated in the Freeman Community Development Corporation/Rural Revival Farm Tour earlier this month and why he wants to make himself available to all.
"I want to introduce myself and want them to know where my heart is at, and that it's certainly with what the school is doing," he said. "That's what I care about."
Hartel says Cultivate 120 will go a long way in helping the school offer competitive compensation to its staff and secure financial viability for years to come.
"I'm enthusiastic about what we're doing, and I think that's what it takes to be successful," he said. "I'm here to help — to help the kids and help the teachers and make sure we're here for years to come.
"Those are the important things," Hartel continues. "If that remains our focus, I think most other things will naturally fall into place."