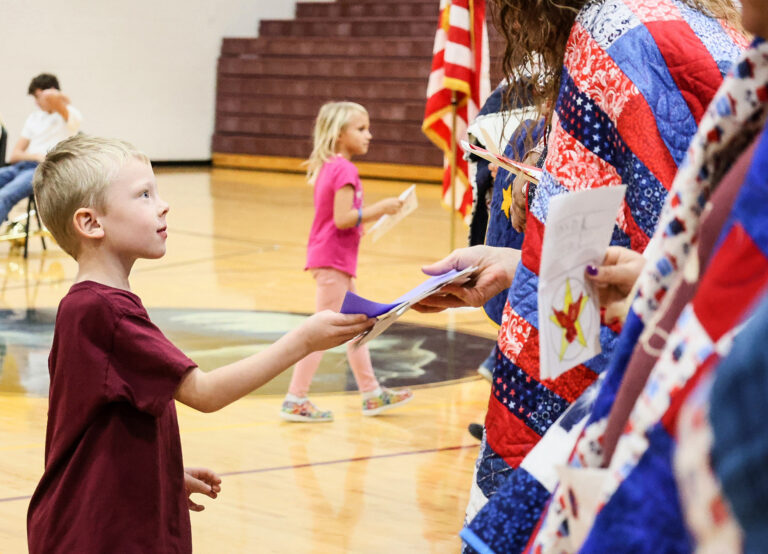 news
A SALUTE TO VETERANS
Thank you for being brave.
For letting us be free.
Thank you for serving,
And going to war for us.
Thank you for going to the military,
And putting your life on the line.
Thank you for being selfless,
And fighting for us and your family.
Those words, written by fifth grader Andrew Nusz, were among several student writings shared as the Menno National Honor Society (NHS) hosted a Veteran's Day program inside the high school gym Friday afternoon, Nov. 10 — one day in advance of the annual Nov. 11 observance that honors the 11th hour of the 11th day of the 11th month of 1918, when the Armistice with Germany went into effect, formally ending World War I.
Last week's program was an annual tribute to veterans of the United States Armed Forces in general — as told by the students who shared their words of appreciation — and, more personally, those from the Menno area specifically. This was best reflected in the awarding of nine Quilts of Honor and Quilts of Valor made by local women from the community and draped across the shoulders of men and women who have served.
Jeff Liebl and Shirlene Simonsen were given Quilts of Honor, which are presented to bestow a universal token of thanks, solace and remembrance to those who are serving — or have served — in the military, Phyllis Oplinger said in her remarks at Friday's program.
Those receiving Quilts of Valor were Joe Eide, Todd Heckenlaible, Robert Heckenlaible Katie Huber, Jennifer Masterson, Troy Heckenlaible and Lee Heckenlaible.
Quilts of Valor are presented to members of the military who saw active combat; the Quilts of Valor Foundation was established in 2003 to bring comfort to "boots on the ground" veterans who have been touched by war. Since the foundation was established, more than 300,000 Quilts of Valor have been distributed nationwide, Oplinger said.
She also noted that the Menno area has been awarding Quilts of Honor and Quilts of Valor since 2018; including this year's class of recipients, 58 have been made and distributed.
Friday's program was emceed by National Honor Society President Isaac Fergen and included the presentation of colors by the Rames-Bender American Legion Post 152 and music by the Menno High School band under the direction of Steven Bray.
The winning Patriotic Pen essays that were read are as follows.
Savanah Wielenga, Grade 6
American people inspire people all the time. For example, Ginny, a lady who became pen pals with a man in prison, or a kid who saved a bus load of kids by stopping it when the driver had a heart attack. These courageous acts by ordinary Americans inspire me to do what I believe is right to help save people or help others. I am inspired by Americans who never give up.
The first person that has inspired people all over the USA. Her name is Fallon Taylor. She fell off her horse Flo's Heiress aka Baby Flo during a barrel race. She fractured her skull in four places, shattered the right side of the face along with her eye socket, and her C-2 vertebrae. She was determined to race again despite what the doctors said. And she did.
Fallon Taylor has inspired people because she never gave up. She was practically crippled and she still taught herself to walk again. She said one time, "If you try to improve one percent at a time one hundred days from now you will have improved one hundred percent." She was the 2014 world champion in barrel racing. She continues to race, raise, and sell horses which is an inspiration to me.
Another person who inspires me is Amberly Snyder. She inspires me because she got in a car accident, and broke her back, but that did not mean she was going to stop barrel racing. Her horse, Power, is normally harder to control, but when Amberly got hurt, she had to figure out how to retrain Power. Amberly had a seat belt attached to her saddle so she would stay on. She did not stop chasing her dream. She still races today. She is also a motivational speaker, children's author, and has a Netflix movie about her journey(Walk.Ride.Rodeo).
Finally, people like Ginny, Fallon, and Amberly inspire me to never give up and to help others.  America would be a better place if everyone never gave up and never quit trying. After all, people don't come along like this all the time, but we might be able to make those people come more and more often and inspire us and others.
Daniel Schaeffer, Grade 7
The famous author Ralph Waldo Emerson once said, "America means opportunity, freedom, power." That quote inspires and tells me that we have a lot of freedoms and things we can do in this country. The United States is in the top 17 for the amount of freedoms we have here in the US. I am inspired because of the freedom, power, and opportunities we have in America.
First, the freedoms we have make our country great because they show that we are a good and safe country that people can visit or come to live in. One freedom that we have that makes me feel inspired by this country is the freedom of speech. The freedom of speech is protected by the first amendment. I think the freedom of speech is important because it gives us the right to say what we want, whenever.
Second, the US has many opportunities for us. Like farming, working at a restaurant, or even doing something like working at your local store. The amount of jobs and things for you to do in the US is pretty high. There are about 8.8 million jobs open for people to do, and support the place where you live. Inspiration for other people and for me on staying in the country to find a job or other people coming from different countries to work and gain money. The US is a good place for things like that and I think other people would agree with me.
Third, I think the United States has a good government system because the power is distributed pretty well, and it's not just one person that has power. I also think that our government makes us better as a country. There are three branches: legislative, judicial, and executive. The legislative branch has the most power and I think it's the most important branch of all and it shows me that they are important because they can declare war.
Lastly, the freedom, power, and opportunity is very good and has many options for people in the US and any others that might want to come to our country to work or for tourism. We are lucky to have all we do, and that really makes me feel like I am inspired by all this country has to offer for people like you and me.
Brooks Schoenfish, Grade 8
As a kid I always wondered what my life would be like if I had not lived in such a great country as America. I always thought that the biggest change I would have to make is to learn an entirely new language to be able to communicate properly. Now,  I believe that many more changes could be made just from moving away. With the more time that passed, I began asking myself, "what about America inspires you?" The answer was obvious. I am inspired by the freedoms, liberties, the countless opportunities, the quality of life, and the equality of all people.
Many people will never think about how great America is. America has countless great qualities that many countries do not have now, like equality between all races, genders, and religions. Equality has greatly improved since 2018 and continues to do so day by day.
Also, not only does America have great equality, but it provides its citizens with many freedoms that many countries do not provide their peoples with, like the freedom of speech, religion, and the freedom to learn. One of these countries is Iraq, who does not have gender equality or the freedom to learn for everyone. Along with these freedoms, America provides citizens with many liberties, like the right to bear arms, and the right to privacy. Another quality of the United States of America is the 27 amendments
Next, the National Archive of America states that an amendment is defined as a change or addition to the terms of a contract, law, government regulatory filing, or other documents. The Ronald Reagan Presidential Library states that the 4th, 5th, and 6th amendments protect Americans from any unfair actions taken by the government used to incriminate American citizens. Forced confessions are regularly relied upon as evidence during trials in Afghanistan, China, Japan, India, and Indonesia despite laws against the practice. This is important because American laws protect all citizens from unfair trials and actions by the government.
Finally, America provides its people with many outstanding qualities that make those people who they are, and I could never imagine living in a different country with different freedoms, liberties, and opportunities. America is a great country, and now I know that I am proud to be an American. America is free, America is fair, and America is and always will be great. America inspires me to be my best, and to be me.
Kylie Guthmiller, Grade 9
Would you be able to see some of your close friends being killed in war right next to you? Some people do experience their friends dying in front of them during a war. This shows that they have love for their country. It also takes bravery to join the military knowing that you may die or having a friend die. "Greater love hath no man than this, that a man lay down his life for his friends." John 15:13. This is what patriotism means to me.
First, love, what does it mean to you? To me love means to care for others and to put others before yourself. Veterans have to love their country to be able to go to war knowing that they might not come back. Veterans have fought for years at a time away from their family. The love veterans had for this country shows that they believe that everyone should be able to say what they want to say and believe what they want to believe. As veterans have shown their love for our country we should show our love to them.
Next, bravery many people do not have the bravery to fight for our freedoms. It can be hard to be brave but veterans have put that aside and went to fight no matter the circumstances. "This nation will remain the land of the free only so long as it is the home of the brave." Veterans are the reason why we still have the freedoms that we have now. They could have just stayed home and spent time with their families and friends, but they decided to be brave and fight for the country they love. After leaving the military 44% of veterans are said to be lonely because they had no one to love them when they were away like their family loved them.
Could you imagine a country with no one that wants to fight to keep our freedoms? "America without her soldiers would be like God without his angels." Patriotism can mean many things to different people but that's okay because veterans have fought so we have that freedom. To me patriotism means to have love and bravery.
Brayden Kludt, Grade 10
When asked what the greatest attributes of our democracy are, the first thing that comes to mind for every American is freedom. This word has been at the core of America's democratic values since before our forefathers founded this country several hundred years ago. In the beginning, we liberated ourselves from the restricting force of the British and forged a nation where freedom stands proud before every law and citizen. What sets America apart from other countries' democracies is our collective and unwavering belief that all Americans have the right to pursue happiness and prosperity. This promise is one of a kind in the world and all Americans should be grateful for this right to be happy.
One of the most important qualities that has contributed to America's standing as the world's richest country is the availability of free education to all children and young adults. Access to higher learning has allowed every American child and young adult the opportunity to pursue the profession that best suits their interests and talents. This ensures individual fulfillment and provides the nation with a large amount of jobs that people can enjoy. The education system in America is a testament to the fact that educated people are essential for a thriving democracy.
America's gracious welcoming of legal immigrants has been important to its growth and prosperity for the whole of our history. Currently, the United States is home to over 45 million immigrants, proof of the attraction of the American dream. One of the key reasons for this diverse amount of new people is America's freedom of religion. The allowance of religious freedom in the United States has made it a desirable new home for those seeking to practice their faith freely. In many countries, freedom of religion is a sore topic because government and social pressure block different religious beliefs. It is because of this our nation boasts a diverse culture of religious diversity, with millions of religious minorities contributing to the American people and the greatest parts of American society.
The idea of "innocent until proven guilty" is a very important part of how our justice system works in America. It means that if someone is accused of a crime, they're not automatically considered guilty. This is a right that is so fundamental it is known well across the whole of the United States. We have the right to a fair trial where it's up to the people accusing them to prove whether they committed the crime. This rule helps make sure that nobody is treated unfairly and helps the effort to not be punished for something they didn't do. It's all about being fair and making sure everyone gets a fair chance in court, which is a big part of our democracy and the rights of an American citizen. We believe as a country that it's better to let a guilty person go free than to punish someone who's innocent. This is why this rule is so important to our country and our people.
The success of our American democracy has granted me a quality of life that is envied by billions of others around the world. I have the privilege of freely making my own decisions on many things I do in a day. While many countries offer various freedoms, none can match ours. Some nations grant certain privileges but restrict others, but in America, the principle of individual freedom is over all others, making it a shining example of a great democracy and hope for people from all walks of life around the world. America's commitment to freedom, education, and open legal immigration continues to shape its democratic identity as a democracy that has many great attributes.